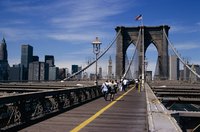 Bridge and tunnel officers staff the tollbooths and patrol the tunnels and bridges of New York City. As armed peace officers, they may issue tickets, assist motorists, respond to emergencies and help safeguard the public. Bridge and tunnel officers are trained in first aid, firefighting and recognition of weapons of mass destruction, and also receive training as police officers. Officers may make arrests, prepare reports and offer testimony in trials.
Starting Salary
Bridge and tunnel officers earned $36,900 annually during their first year, according to the employment contract effective through May 2009. This equates to about $709 per week. During their first 11 weeks at the training academy, cadets earned 15 percent less, or approximately $603 per week.
Maximum Salary
According to the Bridge and Tunnel Officers Benevolent Association, the contract ending May 2009 provided a maximum annual salary of $58,444. The New York City Department of Citywide Administrative Services reported that officers had the potential to achieve the maximum salary after five years of employment.
Additional Pay and Benefits
Bridge and tunnel officers were eligible for overtime and shift differential pay. The BTCBA reported that in 2009, each officer received a $1,200 per year uniform allowance. The Metropolitan Transit Authority pays the medical insurance premiums for the officers. Holiday pay, personal days, vacation and sick days are among the paid time off officers may receive.
Temporary Positions
The MTA also hires temporary bridge and tunnel officers. Temporary positions paid $12.85 per hour in 2011, according to the MTA. Positions last no more than one year. Although temporary officers do not receive full benefits, they are eligible for overtime pay and receive medical insurance coverage after working 90 days.
Qualifications
All applicants must be 18 years of age or older and hold a high school diploma or its equivalent. A valid New York driver's license is required, and a history of accidents, tickets or license suspensions is grounds for disqualification. Candidates must pass a physical, background check, drug screen and psychological and medical tests. Applicants must be U.S. citizens and residents of New York State.