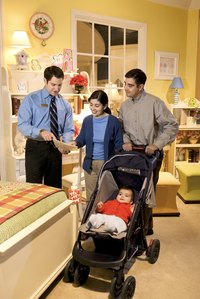 Though technical proficiency in the industry or product category for which you're applying is useful, many employers prefer to hire salespeople with natural skills and personal traits that typically work well in selling. Genuine interest in people, a customer-centric attitude, a service orientation and empathy are all effective traits of salespeople.
Prospecting Skills
Prospecting is a key requirement in many sales jobs. This is the process of finding new customer leads and making initial contacts. The ability to source new leads through such prospecting tools as referrals, databases, trade shows, directories and cold calling is necessary to build a customer base. To present this skill area on a resume, you can write, "Excellent prospecting and lead generation skills with strong reputation for cold calling conversion success."
Phone Skills
Not all sales positions require telephone skills, but many do. The ability to make cold calls is significant in selling. Cold calling involves contacting people from a prospecting list who you've never talked to and attempting to gain a personal visit with them to present your solution. Regarding a previous job in which you've demonstrated strong phone skills, you can say, "Experienced with all telemarketing skills including cold calling and follow-up service calls."
People Skills
A number of people skills are necessary for effective selling. Relationship selling is a prominent theme in 21st century business. This means becoming genuinely interested in your prospects and customers, understanding and empathizing with their needs, and effectively responding to them with your best solution match. Strong interpersonal communication, empathy, compassion, charisma and listening skills all project a good orientation when working with customers in a personal selling situation. This particular skill set is best noted in a "Summary of Qualifications" or "Summary" area of a resume. For example, you can write, "Strong interpersonal skills with proven ability to build and maintain relationships with customers."
Integrity
Closely related to people skills and relationship selling is personal integrity. Thanks to prominent business scandals and a renewed emphasis on honesty and accountability, many companies prefer salespeople with a strong reputation for integrity. To build long-term relationships with key customers, organizations need salespeople who convey strong moral character to customers. Integrity skills are also best noted among your list of qualifications or in your resume summary unless you have specific accomplishments or ratings to share on a particular job.