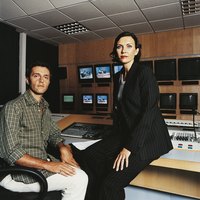 Executive producers manage the business side of television shows. Their responsibilities including creating and adhering to a series' production budget, maintaining sponsorship relationships for advertising revenue and heading contractual negotiations with on-air talent on behalf of television networks.
Salary Per Episode
2010 data earnings data from the U.S. Bureau of Labor Statistics place the average annual wage of producers in television broadcasting at $72,030. TV series in the United States range in length from 12 to 20 episodes per broadcast season, meaning this average rate equates to between $3,602 and $6,003 per episode. BLS statistics indicate that producers in the occupation's highest-earnings percentile average $111,720 per year, a rate that factors out to $5,586 and $9,310 per episode depending on season length.
Factors Affecting Salary
The major factors affecting the salary of television executive producers are the size and reach of the the networks that employ them and the scope of the production budget dedicated to particular show. Executive producers employed by major national networks or cable channels earn more on average than those employed by regional or local stations with smaller advertising budgets. Some producers work independently on a contractual, per-project basis with several different providers.
Comparison to Other Television Professionals
Independent artists, writers and performers earn $101,240 per year on average, according to BLS data, a rate nearly 30 percent higher than those employed in television broadcasting. Producers in the motion-picture industry also outearn those in TV by more than 34 percent with an average annual salary of $109,860 per year. TV producers salaries also pale in comparison to on-air talent, who can take in between $100,000 and $500,000 per episode.
Relevant Educational Background and Skills
Aspiring television executive producers must possess a bachelor's degree in business communication, broadcasting, management or a related field. In addition to between three and five years of senior-level experience in media management, TV executive producers must also have demonstrated success in large-scale entertainment related project management in either film, television or the performing arts. Excellent interpersonal communication skills are also useful given the extensive networking and capitalization on professional relationships required of the role.