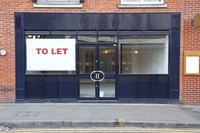 Opening a retail shop requires you to find a place to sell your products. You need to narrow down the location, determine the appropriate traffic flow to your store and calculate the size that you require. An important consideration is the cost of your lease and utilities. A portion of the amount of rent that you pay may be based on the monthly sales receipts of your retail business.
Percentage Rent
Retail businesses that rent space in a stand-alone building, strip shopping center or large retail mall commonly pay rent that is reflected in a percentage of monthly gross sales. A base rent, which is a flat rate paid per square foot, is usually included with the percentage rent. Since long-term commercial leases normally contain automatic annual escalations, the percentage of subsequent years must be considered when forming a business plan. Percentage rents may help retailers weather downturns by requiring less when sales are low, while landlords and tenants reap the benefits of boom years.
Breakpoint
When determining how much of a percentage of income rent should be, the landlord can calculate a breakpoint. The breakpoint is the amount of sales that must be earned before the percentage rent clause is activated. A natural breakpoint is how much your store must earn when the percentage of rent is the same as the flat rate base rent per square foot. The natural breakpoint is calculated by dividing the yearly rental amount by the percentage rent agreed upon in the lease.
Average Rate
The percentage rate of gross sales charged is based on the negotiations with your landlord. However, 7 percent is average, but it could be more or less, depending on how much base rate you are charged. You will pay the base rate every month regardless of how much you earn, but the percentage rent will kick in when the agreed upon amount of sales is met. If the percentage rent is lower, such as 4 or 5 percent, then the base rent pay will be higher. If you agree to pay a larger percentage of your rent, you can negotiate not paying a base rent at all. However, your historical gross sales amount must support this type of agreement.
Utilities
In general, utilities are not included in your percentage rent. Your lease will specify how utilities are paid. You either will have your utilities metered separately from the rest of the stores or pay a percent of the total bills based on the size of your space. Therefore, your utility usage should not have an impact on the percentage of gross sales charged for your rent. If you are in a stand-alone building, then your landlord will probably require that you pay for the utilities, since the amounts of the bills will be based solely on your usage.