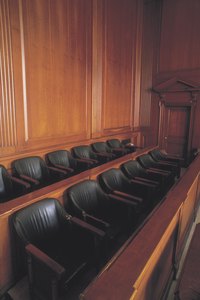 Serving on a jury is a privilege and a responsibility. The jury system is an integral part of the American legal system. However, jury duty may create a financial hardship for those who must take time off from work to serve. The laws on paying employees for jury duty depend on the employee's classification and your state.
Federal Law for Hourly and Salaried-Nonexempt Employees
Federal labor laws do not require you to pay hourly and nonexempt salaried employees for any time not actually worked. Paying employees in these classifications for jury duty depends on your state law or, if employees are covered by a legitimate employment contract, the terms of the contract.
Federal Law for Salaried-Exempt Employees
Exempt employees, such as managers or professionals, who receive a salary but are excluded from the requirements for overtime pay, receive protection from salary adjustments under federal law. Typically, you cannot adjust an exempt employee's salary if he works at all during the week, although you may withhold pay if the employee is absent for an entire week. If a salaried employee is on jury duty, you should not reduce his pay unless he serves a minimum of one entire week.
Adjusting An Employee's Earnings for Jury Pay
As a rule, jurors receive payment from the court for their service on a jury. You may reduce the amount you pay an employee while he is on jury duty by the amount he received for jury pay. Federal law permits the reduction for both exempt and nonexempt employees.
Effect of Jury Duty on Overtime Pay
Federal law specifies that you must pay employees overtime for all hours over 40 worked in the same week. Jury duty, like vacations or holidays, does not constitute time worked. Therefore, if an employee is absent two days for jury duty, for which you pay him 16 hours, and then works 8 hours per day for the next four days, he should be paid for 48 hours at his regular hourly rate.
State Laws on Jury Duty Pay
Some states have laws regarding jury duty pay that are more stringent than the federal statutes. Whenever a state law differs from the federal law, you must follow whichever statute provides the most benefit to your employee. As an example, the state of New York requires employers to pay full-time employees the lesser of their regular pay or $40 for the first three days of jury service. If the employee does not earn at least $40 per day, the state will pay the difference. You are not required to pay part-time employees; instead, the state will issue jury duty pay to them. You are also not required to pay employees serving on a jury on their scheduled days off.