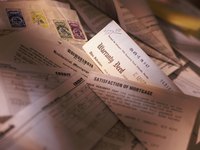 A trust is an entity that shows the legal relationship between a grantor and a trustee. A grantor funds the trust and the trustee manages it. The rights to assets placed in a trust are split between the trustee and the beneficiaries. The trustee is the legal owner of the property and the beneficiaries hold equitable title. Ownership of assets must be assigned to the trustee, because they are held in the trustee's name.
Definition
Legally, assignment to a trust is defined as the transfer of a property right or title to an entity under an agreement. The agreement contains the terms of the trust and must be in writing. Unless the agreement states otherwise, the assignment transfers the grantor's entire interest in the property to the trust. Once assigned, she no longer has any rights connected with the assets and cannot make any decisions regarding their managment. Her wishes regarding its management must be clearly specified in the agreement.
Assignment Terms
An effective assignment is similar to a contract. The agreement includes information about the grantor's legal capacity, consent and the legality of the transfer. An assignment usually contains terminology such as "assign," "transfer," "grant," "bargain" and "sell" -- anything that shows the grantor's intentions with regards to how the trustee is to manage the assets. The agreement specifies exactly how the assets must be used, who the beneficiaries are, and when and how much they will receive.
Changing Titles
Most individuals hire a lawyer or firm specializing in trust management to assign their assets to the trust, but they can also do it on their own. The ownership of assets that have a legal title such as bank accounts, stocks, bonds, IRAs and real estate is changed to reflect that the trustee is now the owner. For example, John Smith assigns his house into a trust of which he is the trustee on Dec. 5, 1998. The old title of the house read "John Smith" while the new title reads, "John Smith, Trustee, under the John Smith Living Trust, Dec. 5, 1998."
Considerations
Not all property has a legal title or deed. Examples include jewelry, antiques, personal loans that the grantor made, royalties and mineral rights. In these cases, ownership is transferred to the trust by including provisions in the trust agreement. The trust agreement contains the terms of the transfer. For example, John Smith wants to assign the rights to future book royalties to the trust. He would include a paragraph in the trust agreement stating his intent to transfer all rights, title and interest to the John Smith Living Trust.