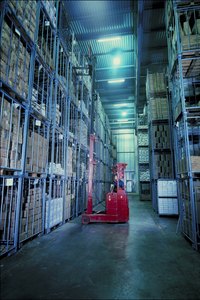 In general, the primary competitive advantage of keeping inventory levels low is that you face much lower inventory management costs. Holding and managing excess inventory has costs because of the space, resources and staff required to manage the storage, organization and distribution of the excess inventory.
Just-in-Time Inventory
Maintaining low inventory levels as a competitive strategy typically falls within a broader inventory management system known as just-in-time, or JIT, inventory. This is an approach to inventory management whereby a manufacturer intends to produce just enough inventory to meet demand or a reseller holds just enough inventory for resale to keep up with near-term demand. JIT inventory management intends to control inventory costs but also to avoid stock outs.
Space and People
Minimizing the space needed to hold extra inventory and the people required to management it are among the contributors to low-cost benefits of low inventory levels. Manufacturers do not have to maintain as much warehouse space to hold inventory. They also need fewer staff to organize and move it around. Retailers that have to invest significant building space in holding excess inventory have to pay utilities for that space and also pay employees for significant time spent moving product in and out of storage.
Cash
A correlated benefit of low inventory levels is more available cash flow for use in other investments. When you buy more inventory than you need and have to manage it, you take away cash that you could spend on more immediate needs. By preserving cash spent on inventory until it is absolutely needed, you can spend cash for payment of short-term debt or to cover other more urgent costs.
Waste
Maintaining low inventory also has cost advantages from the perspective that you will typically have less waste. Grocers that carry perishable food items, for instance, often have to throw away extra product when it goes bad. Medicines and other products with expiration dates usually have to be clearanced or eventually thrown out as well. Cash spent to purchase these inventory items that are eventually thrown out pose a significant cash drain on companies.