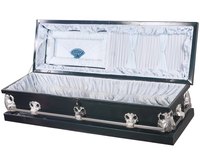 Funerals are the last services that average consumers receive, so their procedures and decorum loom large among surviving family members and friends. When planning appropriate ceremonies, funeral directors must take into account different customs, religions and the wishes of the decedents. An apprenticeship in the funeral industry is the first step in gaining the necessary knowledge and skills.
Training
All states mandate licensing for funeral directors. While requirements vary, most states require a minimum high school diploma or equivalent, a degree in funeral service, passing a licensing exam, and serving an internship or apprenticeship lasting from one to three years. The American Board of Funeral Service Education divides degrees into four main areas of study: public health and technical skills, business management, social sciences, and law and ethics. The apprenticeship provides experience under the guidance of a funeral director or embalmer.
Length
The National Funeral Directors Association lists how apprenticeship length differs by state. In Arkansas, apprenticeships for funeral directors take two years directly out of high school. For those who go through mortuary school, apprenticeships only take one year before, during or after schooling. In Nebraska, apprenticeships can last for six months before and six months after the required education, or it can take one year after the school. In Utah, the apprenticeships can last for one year before or after the education, but must include at least 50 embalmings.
Positions
The National Funeral Directors Association conducted a 2010 Member Compensation Survey that revealed the salaries of different funeral positions as of 2009. Apprentices earned a median annual salary of $28,000 per year, up 10.9 percent from their 2006 median wages. Other median annual earnings on the low end of the funeral service industry included $26,000 for funeral assistants, $21,784 for visitation attendants and $22,460 for receptionists. On the opposite end, funeral home owners received $74,000, non-owner managers got $64,000 and funeral directors/embalmers earned $46,800 per year.
Outlook
The BLS predicts that jobs for funeral directors will grow 12 percent from 2008 to 2018, which is average for all jobs in all industries. This will produce a corresponding demand in apprentices. The increase is due to a growing and aging population. Because funeral directors are older, on average, than workers in other industries, many are expected to retire from the profession in the coming decades. This provides more opportunities for those considering to enter this profession. The best opportunities will be for those who have mortuary science degrees and who can relocate to obtain a position.