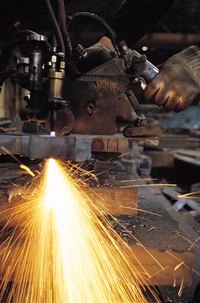 In accounting, capacity refers to the maximum output potential of a production center. Accountants divide capacity into three major components to ensure that the firm utilizes its resources optimally -- as opposed to investing in equipment and personnel that are likely to sit idly.
Total Capacity
The total capacity of a firm is the maximum number of units it can produce when it fully utilizes all resources at its disposal. Here, units can refer to a product, such as the greatest number of shoes that can be made in a shoe-factory, or a service which can be the the most clients a massage parlor can serve over the course of 24 hours. Reaching the total capacity of an establishment usually increases the per-unit cost as it tends to require paying employees overtime, using expedited and often costlier shipping alternatives for raw materials and so on.
Productive Capacity
The portion of total capacity needed to satisfy present demand is referred to as "productive capacity." If the shoe factory has an order for 300 pair of sneakers to be delivered in one week, this amount represents the productive portion of the total capacity. In simpler terms, productive capacity is the portion of the capacity that must actually be utilized under prevailing conditions. In a shoe factory that can manufacture 500 pair per week, these 300 units represent a capacity utilization of 300/500 = 0.6 or 60 percent.
Protective Capacity
Protective capacity is the portion of total output capability that the firm should keep in reserve to handle unforeseen events. Identifying protective capacity is crucial to ensure timely delivery of orders. The shoe factory that can manufacture 500 pairs and has an order for 300 cannot accept an additional order of 200 pairs. Doing so would leave no margin for error and even the slightest problem, such as the late arrival of shoelaces by a day, would lead to defaults on delivery. Instead, a prudent manufacturer, based on historic precedents, may set aside 350 pairs of production capacity for an order of 300 pairs and only consider the remaining 150 pairs of capacity to be truly idle. The 50 additional units of production capability that is "kept in reserve," so to say, is known as protective capacity.
Idle Capacity
In our example, the 150 units that remain after both the required output and the protective capacity have been accounted for is the idle capacity. If 150 units of total capacity are always unused, the firm should reduce its production capabilities to save costs, which it can do by moving to a smaller factory with lower rent, for example. The accountant's analysis of idle capacity is crucial in allowing management to identify where such cuts are feasible.