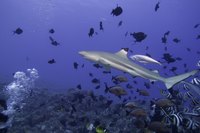 Marine biology is the study of the ocean and its inhabitants. Individuals desiring to begin a career in marine biology should acquire a minimum bachelor's degree in marine biology or a related biological science major, such as molecular biology or marine technology. Many employers who hire individuals with degrees in marine biology usually prefer to seek out candidates with a master's degree or higher.
Degree
Foundational courses for marine biology majors include biology, chemistry, zoology, physics and mathematics. Other courses for marine biology majors are biochemistry, pathology, anatomy, ecology, physiology, ocean farming, parasitology and more. Holders of marine biology degrees can find a variety of job positions, such as oceanographer, marine biologist, lab technician, marine zoologist, ecologist and wildlife biologist. Many degree programs at colleges and universities also focus on applied learning, which allow the students to be involved in research activities and internships.
Career
Most of the jobs related to marine biology focus on research and experimentation. Many aspiring marine biologists focus on specific specializations within the field of marine biology. The specializations may be based upon a specific species, organism or ecosystem. Employers of individuals with marine biology degrees are government agencies, hospitals, animal parks, medical laboratories, colleges and universities and more.
Biological Scientists
According to the Bureau of Labor Statistics, most marine biologists who focus on basic research, which is intended to increase human knowledge, have a Ph.D. in marine biology. Individuals with bachelor's or master's degrees in a biological science, such as marine biology as well as other majors typically obtain nonscientists jobs that relate to biology, such as in marketing, teaching, publishing or research management. According to StateUniversity.com, the average salary for marine biologists is $50,000. According to Schools in the USA.com, the average salary of a marine biologist is $47,740.
Starting Salary
The starting salary for marine biology majors are affected by the geographic location of the employer, type of employer, coursework and other experience. Also, whether the individual has an undergraduate degree or a graduate level degree may determine the salary. According to the National Association of Colleges and Employers, reported by the Bureau of Labor Statistics, the entry-level salary for individuals with bachelor's degrees in biological or life sciences was $33,254 as of July 2009. Schools in the USA.com reveal that the average entry level salary for marine biologists is $29,260.