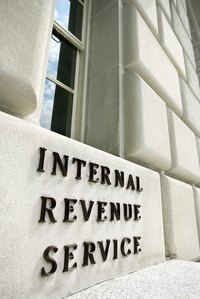 There is no guarantee that your tax return will not be audited, but the items on your tax return and the manner in which you complete the return can significantly change the likelihood. The Internal Revenue Service keeps secret the specifics of what triggers an audit, according to CBS MoneyWatch.com, but the agency offers taxpayers some information about why certain returns are chosen for audit and others are not. Lower your chance of audit by filing a complete and accurate return, supported by your records, and taking only those deductions and credits allowed by law.
Computer Scoring
One way in which the IRS selects returns for audit is with a computer program called the Discriminant Inventory Function System, or DIF. The IRS runs every individual tax return and the returns of many businesses through this computer system, which is designed to detect the possibility of errors that are either accidental or deliberate. The higher the score that DIF assigns to your return, the more likely it is that your return will be selected for further scrutiny.
What DIF Looks For
The full inner workings of DIF are secret. DIF is likely to look for unusual itemized deductions, claimed business expenses that are unusual or high for the type of business, and claimed business losses over a period of several years. Too many round numbers on a return raise the suspicion that some of those numbers might not be supported by records. "Perfect" returns -- claiming refundable credits, such as the Earned Income Credit, when the amount of income reported is just the right amount to result in the highest possible credit -- are also suspect.
Information Return Matching
The IRS can select a return for audit by matching the information in the return with "information returns" that third parties are required to report separately to the agency. These information returns include Forms W-2, 1099s, 1098s and K-1s. All tax forms that third parties report to you are also reported to the IRS, and the agency does check to ensure that you include all reported income on your return. If you fail to do so, chances are high that the IRS will examine your return.
Third-Party Information
The IRS might select your return for audit on the basis of other information provided by almost any third-party source. Information may come from another government agency, such as a bank-regulating agency that discovers suspicious transactions. The source could be another taxpayer, such as an ex-spouse who reports alimony paid to you that you did not report as income or a person who complains that you have claimed a dependent that is actually his. Reported information could even come from the news or the radio; for example, a news story might refer to you as a business owner, although you have not reported any income from the business.
Random Selection
The IRS can randomly select your tax return for further scrutiny. The return may contain nothing unusual, you may have done nothing to trigger an audit and no one may have reported contradictory information -- yet you still could be audited. The best procedure to reduce your chance of being audited is simply to file a complete and accurate tax return.