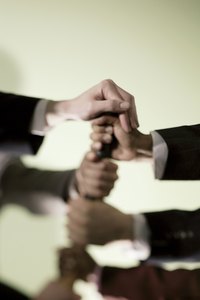 A team can be described as a group of people that have a common goal and recognize that their success is depended on the success of others. The purpose of team building is to enable work groups to more effectively get their work done and improve their performance. Teams are particularly useful when they consist of individuals from various national and cultural backgrounds, as this diversity can be reflected in each team member's respective technical expertise in a particular aspect of the business. Managers and team members need to understand key team concepts to achieve the team-building objective.
Team Role
A role is a self-contained pattern of behavior, considered typical of a person who occupies a certain social position. There are distinct standards and norms expected from each group member. The team manager should assign roles after studying the personal ethical standards and perceptions of moral worth of team members, so that the assigned role brings the greatest reward to the member. Team roles could include; coordinator, specialist, plant-shaper, completer-finisher, resource investigator, etc.
Group Cohesion
Cohesion refers to harmonious working relationships and effective teamwork. Managers are concerned about members of a work group being able to cooperate in order to achieve the results expected from them. Cohesiveness results in greater interaction between members, mutual help and social satisfaction, lower turnover and absenteeism, and often-higher production. A cohesive group can contribute to promotion of morale and aid the release of creativity and energy. The work environment, team membership, organizational factors and the level of group development and maturity contribute to cohesion.
Group Conflicts
Managers need to carefully handle group rivalry and competition. Conflicts may arise as the group competes for resources, status or approval. Managers should place emphasis on the overall objective of the organization and on goals that are over and above the issues at conflict, and which, should they be achieved, would require competition among the members of the group.
Role Conflict
The problems of role conflict can arise from a matrix form of organization and from the use of flexible project teams. When staff is assigned temporarily, and perhaps on a part-time basis, this creates a two-way flow of authority and responsibility. Unless managers define roles clearly, this can result in conflicting expectations from the functional manager and the project team manager. It can also lead to uncertainty about the exact requirements of the part that one is expected to play as a member of the project team, resulting in role stress.