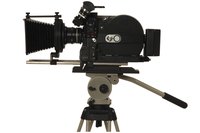 A stunt rigger is someone who works with stunts and special effects shown in television films, commercials, circuses, sporting events and theatrical productions. Riggers are employed by producers or companies specializing in special effects or stunts.
Work Environment and Hours
A stunt rigger usually works with a group of stunt men and stunt coordinators to execute a sequence of events meant to entertain an audience. In television and movie productions, a stunt rigger operates or monitors equipment used to produce on-set stunts. A rigger may also perform stunts and often works under strict deadlines. Hours for this profession are often long and include weekends, evenings and holidays. Work conditions have the potential to be dangerous.
Training and Qualifications
Stunt riggers have many different backgrounds including welding, technical trades, audio/video equipment operation, athletic/gymnastic, martial arts, auto/bike racing, acting and stunts. While no college degrees are required, many schools offer training, such as the International Stunt School in Mukilteo, Washington. Because riggers work in teams, on-the-job training is ongoing.
Equipment
Whether it's to make stunt performers appear to be flying, on fire or rolling over in a horrific car crash, stunt riggers use a variety of equipment. Most riggers routinely work with cranes, cable systems, boom trucks, explosives, harnesses and winches. Riggers also use mobile and flying camera units to capture stunts from unusual angles. Equipment is either engineered commercially or built by riggers to suit the needs of performers and directors.
Stunt Rigger Salary Averages
Riggers are employed in several industries. Stunt riggers usually work for independent film companies and other performance-related employers. In the entertainment industry, riggers are paid nearly $20 per hour, or an average annual salary of approximately $41,000 per year, as shown by the U.S. Bureau of Labor Statistics at the time of publication. Pay is dependent upon budget. In movies and television, the cast and crew can have specific union obligations that can also affect a stunt rigger's paycheck.