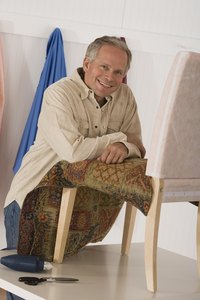 Experienced professionals in the upholstery business sometimes elect to open their own shops. However, competition is stiff in the industry, and it's often difficult to achieve success on your own, according to the United States Bureau of Labor Statistics. In fact, only about 29 percent of 52,700 upholsterers surveyed in 2008 were self-employed. BLS provides general career and salary information that applies to all upholstery professionals in various field concentrations.
Broad Statistics
The mean hourly wage for upholsterers in 2010 was $15.20, or $31,620 annually, according to BLS. The lowest 10th percentile of workers earned hourly wages of $9.39, or $19,540 per year, while the 90th percentile made more than twice that at $22.28 hourly, or $46,350 per year. The 50 percent median of upholsterers surveyed reported hourly wages of $14.40, or $29,960 per year.
Industrial Variances
The type of structures and furnishings you work with help determine what you might expect to earn as a trim and upholstery shop owner. Some of the lower paying fields for industry professionals included personal and household goods repair and maintenance, household and Institutional furniture and kitchen cabinet manufacturing, office furniture manufacturing and other furniture related product manufacturing in which earnings between $29,200 and $32,020 per year were reported. Higher paying positions for upholsterers were found in local government, traveler accommodation, colleges, universities and professional schools, where salaries ranged from $38,940 to $49,300 annually.
Regional Variances
BLS statistics indicate some fluctuation in salaries for upholsterers depending on geographical location. In fact, salaries vary by as much as $36,580 per year from one region to the next. For example, in 2010 the lowest paid upholsterers only made $20,350 per year, or $9.79 hourly in nonmetropolitan areas of middle Georgia. During the same reporting period, professionals in St. Louis, Missouri, earned significantly higher salaries of $56,930 per year, or $27.37 hourly.
Revenue Facts
In 2008, roughly 17,740 upholstery and furniture repair shops existed, according to the High Beam business research website. Reports indicate, that that year such establishments collectively generated revenues of about $1.82 billion. Assuming that each company earned an equal portion of the revenue, the average income for each upholstery shop owner would be about $102,593 per year before overhead expenses. Actual profits and shop owner salaries vary considerably by establishment, individual expenses and number of employees on payroll.
Ownership Expenses
Talented and experienced upholsterers may be better served to seek supervisory positions with large companies, rather than opening their own shops. As a store owner, you might expect to earn the same type of salary as an hourly worker. However, expenses associated with being a business owner can significantly decrease your income. Upholstery shop owners are responsible for numerous business expenses such as rent, utilities, licensing, insurance, materials, supplies, tools, advertising and sometimes payroll. On the other hand, if you have a modest staff of reliable upholsterers and a high volume of business, you might be able to recoup some of your monetary losses in profit.