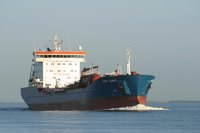 Tanker captains bear the responsibility of overseeing the navigation and operation of large water vessels containing oil. According to the U.S. Bureau of Labor Statistics, tanker captains typically must meet education, training and experience requirements as regulated by the U.S. Coast Guard. The job outlook for this industry as a whole is favorable, as the BLS foresees a 15 percent growth in jobs between 2008 and 2018.
Mean and Median Income
The BLS lists tanker captains under the occupation category of "Captains, Mates, and Pilots of Water Vessels." As of May 2010, the mean, or average, annual income of these workers was $70,500. The median income was $64,180, meaning that half of the workers earned more than this amount while the other half earned less. The top 10 percent earned more than $117,310 while the bottom 10 percent earned less than $30,690.
Industry Comparison
The industry employing the greatest number of captains, mates and pilots of water vessels as of May 2010 was "Support Activities for Water Transportation." The 7,780 workers earned a mean annual income of $82,800. Of the five industries employing the largest number of these workers, this industry also featured the highest average income. "Inland Water Transportation" employed the second-highest number of workers at 6,970, but the average annual income was much lower at $67,630.
State Comparison
By far, Louisiana was the state employing the greatest number of workers in this occupational category, with a total of 7,440 workers earning an average annual income of $77,020. Texas was next at 2,890, although workers in this state earned a higher average income of $84,880. Louisiana also had the heaviest concentration of workers, as 4.06 per every thousand workers in the state were employed in this occupation. By comparison, the next highest concentration was found in Alaska at 2.03 per thousand, although this state employed only 620 of these workers.
Metropolitan Regions
Louisiana also contained the two metropolitan areas with the largest number of workers in this occupation. The Houma-Bayou Cane-Thibodaux area employed 2,920 workers at an average annual income of $82,200. This region also featured the highest concentration of workers in this occupation at 32.28 per thousand. The New Orleans-Metairie-Kenner region employed 2,560 workers at an average income of $73,080, although the concentration of workers was only 5.07 per thousand.