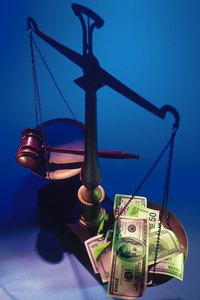 In some situations, you may not have to pay someone for his services until a specific event happens. These fee arrangements are known as contingency fees, or payment on a contingent basis. If you're ever in a situation where someone is charging you a contingency fee, you should always discuss the arrangement thoroughly so you understand exactly what the fee entails.
Contingency
A contingency is simply a possible event that takes place. A contingency fee is a fee that is dependent on that event happening. For example, some attorneys work on a contingent fee basis. These attorneys are often plaintiffs' attorneys, meaning they work on behalf of someone who wants to sue someone else for money. An attorney working on a contingent fee basis typically agrees not to require the client to pay unless the attorney wins the case or otherwise recovers money on the client's behalf. If this contingency happens, the client agrees to pay the attorney a portion of the money recovered.
Fee Amounts
If you're charged on a contingent fee basis, the eventual amount you end up paying can vary greatly. An attorney who agrees to a one-third contingency fee agreement will take one-third of any money recovered as her fee, for example. An attorney may also charge a sliding contingency fee, such as taking 50 percent of the first $1,000 recovered and a smaller percentage of the remaining recovery.
Limits
Many states limit contingency fee agreements, especially for those attorneys who charge their clients. A lawyer in New York, for example, can take a contingency fee of up to 33.33 percent. However, personal injury contingency fees are even more limited, according to John Hochfelder, a New York personal injury attorney. Personal injury fees in the state are limited to 30 percent of the first $250,000 recovered, 25 percent of the next $250,000 and a smaller percentage of subsequent amounts, as of September 2011.
Considerations
A contingent fee agreement sounds appealing to many people because they believe they will not have to pay any money at all. However, this isn't always the case. An attorney working on a contingent fee basis may require the client to pay for various expenses. For example, a personal injury attorney may agree to represent you on a contingent basis but require you to pay the court costs associated with filing the lawsuit or for making copies of legal documents. Always ensure the continent fee agreement explicitly addresses what expenses you'll be expected to pay regardless of whether the attorney wins the case.