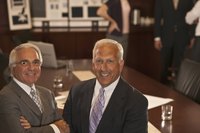 After leaving the workforce, some retired seniors decide to go back to work to supplement their retirement incomes, or to put their time to productive use. Rehiring these retired employees can be beneficial for the business, but the company needs to manage them with extra care.
Expertise
After years of working, retired employees know the ins and outs of the business. They often have a higher level of expertise than the newer employees. Without these retirees, the business may face a knowledge gap that younger employees can't fill. Rehiring these retired employees brings back the knowledge and the skills they acquired over the years in the business, which may help the business perform better and allow the younger employees to learn from the rehired retirees' experience.
Reduce Costs
Rehiring retired employees can reduce the business' costs and improve its bottom line. The expertise of these employees helps make the business run more efficiently. They also reduce the urgency with which the business has to hire and train new employees, cutting down on recruitment costs. If the business allows the rehired retired employees to guide new employees, they can also provide valuable advice that will reduce costly mistakes.
Restrictions
The Internal Revenue Service imposes restrictions on hiring retired seniors. If retired seniors are hired as employees, they may lose their retirement benefits. The business can avoid triggering such problems by hiring seniors as independent contractors, but the IRS may see this as a red flag and conduct an audit of the business. In some cases, missteps can lead to expensive penalties. The business may be able to reduce its liability by rehiring retired employees through a third-party employment provider, but there is a fee involved.
Lost Opportunity
When a business rehires retired employees, a danger exists that the business will neglect the development of its younger talent. By reducing the need to fill employment gaps, the business may miss out on hiring qualified employees who can one day fully replace the rehired senior employees. Because the senior employees remain in the business, younger employees might find it more difficult to advance to higher positions and choose to work elsewhere for better prospects.