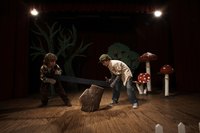 The job of a theater critic is three-fold: to interpret the theater, to judge the quality of theatrical productions and to communicate those thoughts in a way that will be accessible to readers. Yes, the critic has the opportunity to consume entertainment, but the job is hard work with the opportunity for financial reward.
Average Mean Salary
Employment opportunities for theater critics are in periodical print and broadcast media. Average mean salary of writers for newspapers, according to the Bureau of Labor Statistics, is $56,210; writers for broadcast have an average mean of $66,110. Shelly Field, the author of "Career Opportunities in Theater and the Performing Arts," pegs the median salary range of broadcast theater critics between $23,000 and $65,000. Critics can bring in a greater income if they have the opportunity to freelance or syndicate their work.
Education
An arts critic must have a deep understanding of their subject matter to write insightful and useful reviews. Experience behind the stage crystallizes the view from the audiences' seats. So while collegiate journalism study might be helpful for the writing aspect of the job, the most useful degrees for content will be in the subjects of theater production, theater tech and acting.
Career Path
Writers typically will not jump into a criticism career at the entry level. More likely a hopeful critic will start in a generalized writing position with a print publication or broadcast station as a reporter or copy writer. Demonstrating initiative in writing reviews of stage plays can lead to a full-time job in criticism. Once a writer becomes a critic, moving up the career ladder consists of seeking positions with more prestigious media outlets.
Limitations
The problem with writing criticism about the stage — unlike movies, recorded music and other mediums that can be consumed in the same way across a far-reaching geography — is that its relevance is localized to where a play is performed. A review of a show in Milwaukee simply has little use to a reader in Austin, and thus there are scarce opportunities for a theater critic to syndicate his reviews or publish nationally. The exception is if the critic writes in an area that invites a significant level of tourist traffic to its live theater venues.