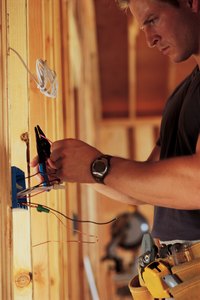 Once the aspiring electrician has completed his due diligence and has passed from being an apprentice to a journeyman electrician, he can work on his own without necessarily having to be supervised. The master electrician also has this freedom, but additional freedom and responsibility within the electrical industry as well. Although similar in some ways, the journeyman and master electrician differ noticeably in several ways as well.
Training
One of the more significant differences between the journeyman and master electrician is in the amount of required training that each must have to obtain their respective titles and licenses. A journeyman electrician completes an apprenticeship under the direction of a master electrician and must usually complete 8,000 hours of supervised on-the-job training over a four-year span of time. The master electrician typically needs an additional two years of training, which equates to about 12,000 hours of supervised training under the tutelage of a master electrician before he can qualify for the master electrician license.
Leadership
A second significant difference between the journeyman electrician and the master electrician is in the amount of formal leadership or supervision they can exhibit while working on the job. The journeyman electrician can usually work independently, but cannot play the role of a supervisor to other journeymen or to apprentices. The master electricians can supervise both, serve as a crew leader, pull permits and complete other supervisory tasks as permitted by the law in the state in which he works.
Advancement
Master electricians have considerably more leeway than journeymen electricians as to what they can do with their careers within the electrical field. The journeyman electrician can only advance to be a master electrician with additional supervised experience. The master electrician, on the other hand, can serve as more than just a supervisor. The master electrician can become an electrical contractor, operating his own business. As a contractor, the master electrician is required by law to maintain state-required insurance coverages, whereas the journeyman is not.
Job Outlook
The job outlook for both master and journeyman electricians appears to be positive, based on projections made by the United States Bureau of Labor Statistics for 2008 to 2018. The BLS indicates that the number of jobs for electricians will grow by about 12 percent during this time frame, indicating steady job growth. However, the BLS also notes that the best job prospects will be for those with the widest array of skills outside of traditional electrical wiring work. Master electricians may have a significant advantage over journeymen in this respect.