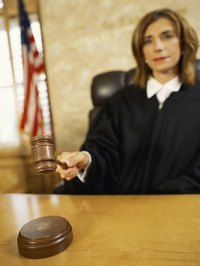 Los Angeles County Superior Court Judges preside over a range of civil cases including matters of real estate, family law and financial transactions. Judges are elected officials with a six-year term of service. Accordingly, their pay is public record and regulated by state and county legislation. According to the Los County Chief Executive Office, judges receive an annual salary of $178,789, as of the date of publication.
Official Salary
Los Angeles County judges received their last pay increase in Jul;y 2007, reaching the current $178,789 of official salary. However, according to a 2009 report in "The Los Angeles Times," most California judges have forgone a day's pay each month to honor the difficult financial times their state has been facing since the economic crisis began in 2007-08.
Extras
In 2009, "The Los Angeles Times" reported that Los Angeles County offers its judges a number of bonuses, incentives and benefits beyond the officially listed salary. The Times values a county judge's total compensation at $249,413 per year. This includes a $20,000 county-given cash supplement.
Comparisons
Los Angeles County judges earn more than their colleagues at county, state and federal levels. According to the U.S. Bureau of Labor Statistics, federal district court judges made $169,300 per year in 2008, while "The Los Angeles Times" reported that California judges outside L.A. County make an average of $192,386 including county-paid incentives and benefits.
Future
The base salary of county judges comes from the state. Accordingly, changes in state budgets can affect county judges' salaries. During times of economic crisis, judges can go for long periods without pay increases and are potentially subject to pay cuts. However, state law prevents California-mandated employee furloughs from affecting judges.