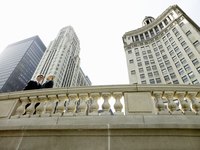 Illinois Unemployment Insurance (UI) provides eligible unemployed workers in the state with weekly benefit payments. The UI program is administered by the Illinois Department of Employment Security. Workers filing claims for UI must be be eligible when first filing a claim and during all weeks of benefit payments. Claimants are expected to accept reasonable offers of work, and there are several reasons why an offer could be deemed unreasonable.
Able and Available
A major UI eligibility requirement is that the claimant be able, available and willing to work on an ongoing basis. The ability to work means being physically and mentally capable. Availability is connected to the claimant's personal status. A claimant who must stay at home most of the day to take care of a dependent will be considered unavailable and thus not eligible for UI. The same would be true for a full-time student.
Suitable Work Standards
The UI law requires a claimant to accept offers of new employment. Rejecting an offer of suitable work will result in UI non-eligibility. The Department looks at each individual situation to determine what is suitable work. One criterion is the type of job offered, given the experience, education and skills of the claimant. A secretary will not be expected to take a technician job, nor a corporate executive to take a delivery-driver position. An offer of an appropriate job with below-market compensation would also be not considered suitable.
Non Suitable Work
The law allows the claimant to refuse work without losing UI benefits in certain circumstances. A job that would put the claimant at physical risk or be overtly offensive are not suitable. Having to either join or quit a labor union, or knowing the claimant will cause another union worker to lose his job is an allowable reason. Other reasons are unreasonable job duties, travel requirements or any kind of current labor action at the offered place of employment.
Other Provisions
The standards used to determine the suitable work requirement become more strict and conservative as the time on UI increases. The Department will expect a claimant to be more willing to take less desirable or lower paying jobs as time goes by. The Department may require a claimant from the very beginning to participate in Reemployment Services programs. Refusing to participate without good cause can result in non-eligibility.