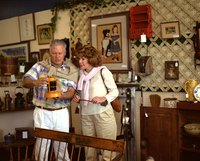 If you tried to sell some merchandise but could not find a buyer willing to pay your price, then you may be interested in a dealer consignment sale. Seasonal or expensive items may take longer to sell, so your local shops save you the trouble and expense of advertising and showing the merchandise. Conversely, if you want to buy something like new at a discounted price, then look for a dealer consignment sale.
Merchandise Quality
Consignment merchandise, whether it is a once-worn wedding gown or an antique dresser, are usually gently used items. Sometimes you can find new items, especially with clothing and accessories. Professional artisans place new merchandise on consignment as an additional outlet for their work.
Dealer Consignment Explanation
When you place an item on consignment with a dealer, he is agreeing to display your merchandise in his shop in exchange for a percentage of the sale. The commission pays the dealer for using his shelf or floor space, bookkeeping, overhead and access to his customers. The dealer does not pay you any money upfront. You only get money if the item sells. If you are the customer buying a consignment item in a shop, then the sale may be final. Verify that you examine everything before paying for it.
Consignment Sale Tips
Get a contract that clearly states who is responsible in the event of damage or theft. If you are responsible and the item is expensive, then ask your insurance agent if your homeowner's policy covers consignment sales. Additionally, list the sales price or price range as well as the amount of commission. Some shops limit how many months they will display your items.
Why Use Dealer Consignment
Expensive items do not sell well at yard sales, and you may not know many people with that much money. Some people do not want to be bothered with selling merchandise, and dealer consignment helps them to get a good price for their goods. Customers can find good bargains at consignment shops. Additionally, some specialty shops may sell a mix of their own and consignment merchandise. For example, if you are a bride looking for a wedding dress, look for discounted consignment gowns in a special section of bridal boutiques, in addition to checking general consignment shops.