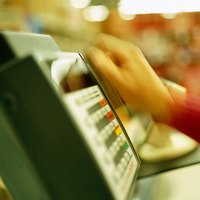 Your credit card or your credit card number can be stolen in a variety of ways. Most people are not aware that the theft happened until they learn of fraudulent charges on the account. If your wallet is stolen, you may realize the theft sooner than if someone accessed an online database and stole your card number. It can be even more disheartening if they have used your credit card and possibly maxed it out.
Discovering Your Credit Card Was Stolen
One reason that you need to check your monthly statements is to look for charges that you did not make each month. If there is any unusual activity, your credit card company may contact you to make sure that you authorized the charges. You can cancel the card and begin the process of disputing the charges. A company may email you informing you that its database was hacked and to watch for possible fraudulent charges on your account.
Report Stolen Credit Card
If you discover your credit card is stolen, you need to call the bank immediately to report your credit card as being stolen. Most companies will reverse the majority of the charges if you report your card stolen within the first 24 hours of realizing that it was missing. Additionally, you should file a police report about your stolen credit card. The police report can help you dispute fraudulent charges.
Disputing Charges
Contact your credit card company to dispute any charges that have been made on your account you did not authorize. You can do this by phone, but many banks have an online form you can fill out and click certain transactions to indicate you did not authorize them. This form may speed up the process. The credit card company will then investigate the charges and credit your account back once it has confirmed the charges were fraudulent. Most companies have a dispute period of one to three months in which you can question and investigate charges.
Closing Your Accounts
To protect yourself from identity theft and from this happening in the future, you will need to close your account and open a new one. Your bank will issue you a credit card with a new number. If other information was stolen, you will need to close all of your accounts and open new ones. You should monitor your credit report on a regular basis to make sure that your identity is not stolen in the future.