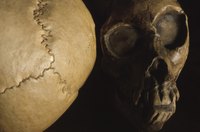 Forensic morgue technicians assist pathologists, medical examiners and forensic doctors to help find answers regarding an individual's death. Also called a forensic autopsy technician, these professionals study photographs, records, specimen samples and bodies to help prepare autopsy reports. Website CSI-Degrees.net states that morgue technicians earn about $40,000 per year.
Education
To become a forensic morgue technician, you need a high school diploma or its equivalent and a bachelor's or associate degree from an accredited postsecondary institute. Good majors or areas of study include forensic science, biology, medical laboratory science, crime scene investigations, mortuary science or biochemistry. The U.S. Department of Justice suggests taking courses that teach you about toxicology, genetics, controlled substances, pharmacology and collecting trace amounts of evidence. You may also find communications and psychology courses beneficial since you may need be in contact with the families of the deceased.
Certification
Obtain a forensic certification from an institution accredited by the Forensic Specialties Accreditation Board to help prove your competency. Such institutes include the American Academy of Forensic Sciences (AAFS.org), National Institute of Justice (NIJ.gov) or the National Forensic Science Technology Center (NFSTC.org). If your college offers a medical or forensic program, it may be able to assist you with obtaining a certification.
Work Experience
Gain professional experience by working in a medical or health field. According to the website Education-Portal, you'll need at least a year of professional experience before you can work as a forensic morgue technician. Good ways to gain experience include working at a morgue, hospital lab, veterinary lab, assisting an anatomy or forensic college professor or department or by completing an internship at a pathologist's or medical examiner's office. You may also find opportunities to gain experience at funeral homes. As you gain experience you may have the chance to work with the deceased and perform tests, in addition to performing clerical duties such as labeling specimens, making arrangements with funeral directors and filing reports and samples.
Finding Employment
Seek employment as a forensic morgue technician at law enforcement agencies, development laboratories, government agencies and research facilities. If you completed an internship at a pathologist's or medical examiner's office, you may be eligible to become a full-time employee.