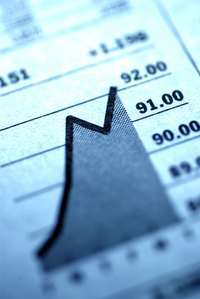 Paid-in capital increases credits. Paid-in capital is a type of corporate financing that's paid by the owners of a company. It is the owner's contribution, meant to fund organizational operations. The most common form of paid-in capital is money from stocks. Businesses sell small amounts of ownership of a company, called shares or stocks of the company. When the company has excess funds, those funds are paid out to stockholders in the form of dividends per share.
Recording Paid-in Capital
Paid-in capital is recorded as a credit increase to both assets and stockholders' equity. Accountants add the amount of capital paid in to the amounts in the assets and the stockholders' equity columns. These columns can be found on a company's official balance sheet, temporary worksheet or in the accounting ledger. Assets and stockholders' equity are part of the basic accounting equation, which is assets equal liabilities plus stockholders' equity. Accountants must be sure to label paid-in capital, especially when adding it to the stockholders' equity column.
Separating Paid-in Capital from Earnings
Paid-in capital is money invested to grow a company. Although it's money earned by the company, it's not earnings. Earnings come from revenue from the sale of goods and services, from lending money or from renting equipment or property. Dividends are paid out of earnings and, in most cases, it's illegal to pay dividends out of paid-in capital. Paying dividends out of paid-in capital is illegal because it's paying shareholders' their investment back, without using the investment money to fund company growth and improvement. Accountants must be careful not to confuse paid-in capital with earnings because both are types of income listed in the stockholders' equity column.
Types of Paid-in Capital
The specific source of the paid-in capital should be labeled when it's listed in the stockholders' equity column. The types of paid-in capital include capital stock and additional paid-in capital. Capital stock is preferred stock, offered before the stock is available to the pubic, and common stock, which is stock offered to the public. Additional paid-in capital includes excess funds paid in because of changes in stock price and treasury stock (shares bought back by the stock-issuing company).
Stockholders' Equity Statement
Paid-in capital is an important part of the stockholders' equity statement, which is an official accounting statement. The stockholders' equity statement is a detailed record of the information listed in the stockholders' equity column of a company's balance sheets. Stockholder equity statements list capital holdings from common stock (labeled with the price of the stock), paid-in excess funds, retained earnings and treasury stock. The statement also lists the starting balance, how many stocks were issued, how much in dividends the company paid out, how much treasury was purchased, net income and ending balance.