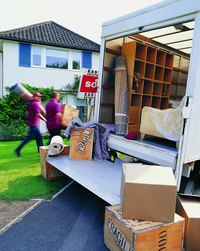 The Internal Revenue Service considers all fringe benefits taxable unless specifically exempted. If the expense is not exempt, employers must include the value of the benefit as wages on the employee's Form W-2. However, employers do not have to report qualified moving expenses to the IRS if certain requirements are met.
Time and Distance Requirement
The employee must work a minimum of 39 weeks in the new location within the first year of his arrival. His new work location must be 50 miles or more farther from his former home than his old job was from his former residence.
Allowable Expenses
Only moving expenses that the employee could deduct are exempt from reporting. Allowable expenses are the costs of moving possessions, including packing; travel between the two locations; lodging while en route to the new home; shipping pets or vehicles; connection or disconnection fees charged by utility companies due to the move; and up to 30 consecutive days of storage expenses for possessions.
Meals, sightseeing trips and shipping charges for purchases made while traveling between the two destinations are not allowable expenses. Should the employer choose to reimburse the employee for nondeductible moving expenses, these amounts must be included on the employee's Form W-2 as wages subject to income, Social Security and Medicare taxes.
Payments to Third Party
If the employer pays the moving expenses to a third party, such as a storage facility, she should not include the information on the employee's Form W-2. This includes cash payments or "payments in kind" the employer makes to secure the third party's services on behalf of the employee.
Payments to Employee
An accountable plan is one in which the employer requires the employee to substantiate his moving expenses and return any portion of an advance not used for the move. Reimbursements made under an accountable plan for allowable expenses are not taxable income. The employer should not include these amounts in boxes 1, 3 or 5 on the employee's Form W-2, but should show them in box 12 and use the code "P."