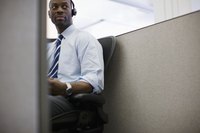 Rather than punching a time clock, exempt employees are paid a monthly salary. The expectation is that exempt employees will put in 40 hours or more per week, perhaps logging more hours on some days and fewer on others. As a result, employers can't dock an exempt employee's pay for no matter how little or how much work they perform on any given day. However, they can dock pay in other situations. Employers also can reduce employee salaries through furlough programs or force employees to use paid time off.
Exempt Employees
Exempt employees are certain classes of employees exempt from federal regulations regarding overtime pay because of the nature of the work they do and the amount of money they make. Rather than being paid by the hour, exempt employees receive a monthly salary. The idea behind a salaried pay is that the employer is paying for the employee's expertise and ability to get the job done rather than a specific amount of hours worked.
Paid Time Off
The Fair Labor Standards Act specifically restricts when employers can dock exempt employee pay for time off work. As long as the employee spends some time working during the day -- even if it's just one minute -- the employer cannot dock his salary. Employers aren't allowed to dock pay for jury duty, witness attendance or temporary military leave. However, an employer can ask the employee to work extra hours to catch up on assignments and other duties.
Docking Pay
Some situations allow an employer to dock pay for time off work. Exempt employees don't need to be paid for a full day of missed work, unless it was due to sickness or an accident. Exempt employees also don't need to be paid if they don't perform any work during the week, regardless of the reason for the absence. Employers also can force an employee to take unpaid time off as a disciplinary measure for breaking workplace rules.
Unpaid Time Off and Furloughs
Employers can force exempt employees to take unpaid time off through an unpaid furlough program. As long as the employee's salary after the furlough is still more than twice the equivalent full-time minimum wage, an employer can reduce an employee's salary to account for the furlough. For example, if an employee earns $90,000 a year, an employer can reduce the employee's working days by 10 percent and cut his salary by $9,000. The employer also can require that the employee use unpaid time off on certain days, as long as the policy is not discriminatory.