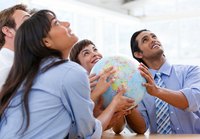 Flip through university catalogs and you may find a new major that was virtually unheard of 20 years ago: sustainability. These programs meet the needs of a changing business world that is becoming as seriously committed to earth preservation issues as it is to the bottom line of corporations. "Sustainability isn't just a catchword for National Geographic employees," says the publication's website when describing efforts to keep more than 60 percent of all of the waste generated at its headquarters out of landfills. National Geographic isn't the only workplace committed to that goal.
The Workplace Sustainability Movement
When a company decides to launch a sustainability effort, goals and objectives are usually set to give the initiative focus. Your sustainability program may encompass goals like reducing operating costs while enhancing revenues by maintaining an environmentally focused attitude toward such business matters as waste generation, use of resources, the use of recycled papers, inks and other office supplies. You may also commit to repairing rather than replacing office machinery. Every company creates its own program based on environmentally responsible decisions to make specific workplace changes. When adopting a sustainability workplace model, you may appoint or hire a sustainability coordinator to set, vet and oversee all efforts.
The Sustainability Coordinator
It's getting easier to find candidates for jobs that encompass leading a workplace sustainability effort, but that doesn't mean a current employee with potential for directing such a program can't be trained to do the job. Whether you bring in a sustainability specialist with a degree or designate a staffer for the job, it's not difficult to find training programs at universities to indoctrinate her on the ins and outs of overseeing a sustainable workplace. Tailor your job description to your organization, but typical responsibilities of a sustainability coordinator are communicating with regulatory agencies, overseeing waste generation, negotiating the sale of obsolete resources and keeping employees, stakeholders and customers apprised of cost savings resulting from these efforts.
Choosing Sustainability Initiatives
When putting into place a corporate sustainability program, you may wish to start with a simple recycling program for plastic, cafeteria compost, toner cartridges, tires or any mix of products frequently used by your workforce and company. Alternately, under the stewardship of a sustainability coordinator, you may have the resources to make sweeping changes in the way the company handles all aspects of energy – from switching to energy-efficient light bulbs and installing solar panels to setting policies on energy use that dramatically reduce the use of power. Some companies find ways to better manage water while others invest in efficient heating systems. Your sustainability program may include a fleet of hybrid cars, transitioning from business travel to video conferencing or a carpooling program that creates a sustainability effort that benefits your company's sensibilities and finances.
Sustainability Certification
If you're serious about your sustainability initiative, you may wish to become certified. This designation can be a source of pride for employees and a way to impress shareholders and it can give your company an enormous public relations boost as reporters and producers are always looking for stories about companies undertaking efforts to become more environmentally responsible. Yale University offers a Green Workplace Certification Program that focuses on all aspects of sustainability in the workplace and it's not the only resource on the planet. Contact your local university for more information on sustainability careers, education and certification.