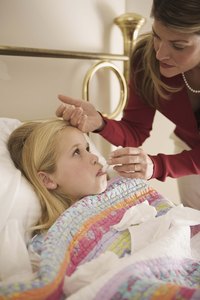 The Family Medical Leave Act, passed in 1993, allows employees who meet certain criteria to take unpaid time off from work when they, or an immediate family member, need medical care. The act protects employees, ensuring that they can keep their jobs even if they need to take time off. As a result, the FMLA has very specific restrictions on what employers can and cannot do when it comes to reinstating employees after they take leave.
General Rules
When you take a leave of absence under the FMLA, the law stipulates that when you return to work, you return to your original job or to an equivalent position with the same pay, benefits and terms of employment. In most cases, this means that your employer cannot change your hours when you return from your leave. However, there is an exception to this rule. If your employer makes an across the board change in hours -- meaning that everyone in your department, or who holds an equivalent position, had their schedules changed -- or can prove that the change would have happened regardless of your FMLA status, you are subject to a schedule change.
Key Employees
In some cases, employers are not required to allow an employee to return to the same job. If "key" employees -- meaning those who earn a salary that is within the top 10 percent of the employees who work within 75 miles of their worksite -- take FMLA leave, they are not guaranteed the same job, or any job, upon their return. In this case, the company has the option of offering a different job, with different pay, level of responsibility and hours. If you are a key employee and apply for leave, your employer must notify you when you apply for FMLA and discuss your options at that time.
Negotiating New Schedules
In some cases, when you return from FMLA, you will want a different work schedule. For example, if you took FMLA due to pregnancy and now want to adjust your schedule to accommodate your child care, you can request the change from your employer. However, your employer is not legally required to grant your request. The only exception is when you return to work after an illness or injury that has created a disability and you need to adjust your work hours to accommodate your condition. In that case, the Americans with Disabilities Act requires your employer to make reasonable accommodations for you to continue working, unless those accommodations would create a hardship.
Legal Changes to Jobs
While in most cases employers cannot change your hours when you return from FMLA, they can make other changes to your job. The law states that you are guaranteed an equivalent position with the same pay and benefits. If you don't return to the same job, your new job may not have identical duties and responsibilities. It could be in a different department, or have an entirely different set of duties. In addition, you are bound to changes that your employer makes to performance goals, bonus criteria and the work environment while you are away.