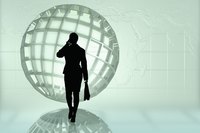 With technology and innovation improving on a daily basis, time and space continue to shrink. Previous barriers to competing in the global marketplace continue to fall at a rapid pace. Improvements in communication and transport sectors are making the world market more accessible. While doing business in the global market is nothing new, more companies are operating on this scale than ever before. Buzzwords like "global" and "multinational" are often used interchangeably to describe this phenomenon, but several key distinctions actually exist between these labels.
MNCs
Multinational companies (MNCs) and multinational organizations operate in the same international arena as global companies and organizations, but their structure and business model differ slightly. MNCs typically transfer much of their production and distribution abroad. These companies invest time and resources adapting to individual foreign markets and tend to be much more integrated at a local level than global companies and organizations. Global companies and organizations tend to have a much more centralized presence in their home country and simply export goods and services abroad.
MNC's History
With the increased recent attention given to the international marketplace, it might seem like multinational organizations and MNCs are a new phenomenon. The truth is that this business and organizational model has been around for centuries. Scholars trace its origin back to the 16th century and the founding of the Dutch East India Company, which had its headquarters in England but operated in various countries in East Africa and Asia, adapting operations to each local market. Since then many MNCs and organizations -- both for-profit and non-profit-- have adopted this model and created a presence in foreign countries based upon localized decision-making and adaptation.
Global Organizations
Global organizations tend to have a much more centralized approach than multinational organizations. These global entities typically have a global headquarters that promotes a singular product or service for distribution in global markets. Generally, these enterprises make little effort to integrate or adapt their product or services to specific markets the way that multinational organizations and MNCs do. Because of this centralized approach, global organizations are generally much more efficient, as fewer resources are spent adapting to local conditions abroad and leadership is hierarchical.
Pros And Cons
Both multinational and global organization structures have advantages and disadvantages. Multinationals allow for adaptation of goods, services and decision-making that can result in deeper penetration of local markets. However, this type of organization typically expends more resources integrating at a local level, and leadership and the decision-making process often become muddled. Global organizations generally spend no resources attempting to adapt products and services at the local level, and decision-making and leadership are more precise. However, as a result, global companies and organizations typically have a more difficult time breaking into markets abroad than multinationals do.