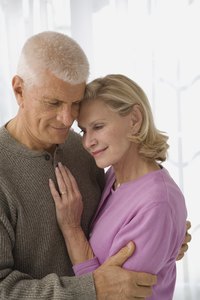 Under common-law principles, dower affected wives' property rights through marriage. Dower often provided a measure of legal and financial protection for women. As of 2011, however, statutory rules determine the property rights of wives, as well as husbands, in South Carolina. A spouse can learn more about marital property through research of the South Carolina Code of Laws or by consultation with a family lawyer who practices law in the state.
Legal Significance of Dower
"Dower" is a legal term found in common-law principles, rather than established by a statute. Dower rights gave a life-estate interest in one-third of a husband's real property to his wife upon his death. Real property includes land and real estate, rather than personal items. The principle of dower allowed some financial protection to a wife, especially when it prevented a husband from selling real property without his wife's knowledge. As of 2010, however, only Michigan still preserved dower rights specifically for women. Several other states continued to recognize dower rights, but expanded the principle to provide coverage of husbands' property rights. South Carolina's judicial and legislative branches have taken steps to modernize spouses' marital property rights.
South Carolina Court Case
In 1984, the Supreme Court of South Carolina issued a court ruling to overturn the principle of dower under state law. The court held that enforcement of dower rights for women represented a violation of the equal-protection clause under the 14th Amendment to the United States Constitution. The court further explained that state law should not uphold dower in regards to property rights after a husband's death when state law established a different set of rights for marital property in the event of divorce.
South Carolina Statutes
The South Carolina Legislature has also taken steps regarding dower rights under state law. For example, the South Carolina Code of Laws includes a provision to eliminate any dower rights held by a wife in the event of a finalized divorce. Section 20-3-190 of the code bars a divorced wife from claiming a dower interest in her former husband's past, present or future land or real estate.
Marital Property in South Carolina
The South Carolina Code of Laws explains each spouse's right to bequeath or devise property through a will in the event of death. If a couple chooses divorce or legal separation, their property rights depend on the state's divorce laws. Division of marital property requires a determination of rights according to the equitable distribution rules followed by the South Carolina courts. In general, a court will review the couple's marital property and financial circumstances to assign ownership of assets and responsibility for debts according to state law.