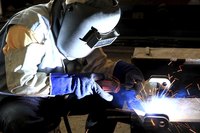 The Internal Revenue Service allows many tax deductions for expenses related to your job or business, and if you are a welder, it's likely that you have expenses that qualify. There may be additional deductions available if you work as a self-employed welding contractor.
Unreimbursed Job-Related Expenses
The IRS allows workers to deduct job-related expenses for which their employer doesn't reimburse them. For a welder, that could include any specialized equipment he needs, such as underwater welding equipment; safety equipment, such as goggles or a hood, leathers and steel-toed boots; special clothing or a uniform he has to wear; dues to belong to a union or trade association; and any ongoing licensing or regulatory fees he has to pay.
Additional Deductions for Self-Employed Welders
If you work as a welding contractor and are considered self-employed, you may be eligible for additional deductions, including travel expenses when you work at a job site that keeps you away from home more than a day: repair and maintenance expenses on your welding equipment and tanks; expenses for any welding equipment you rent; and expenses for welding supplies.