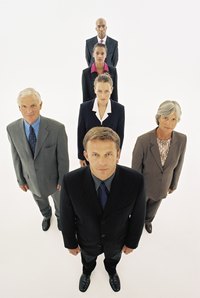 The debt-to-equity ratio measures a company's debt level relative to equity capital contributed by shareholders. Having too much debt is bad for any business. A conservative company avoids debt, only borrowing when absolutely necessary. A high debt burden increases the chance of default. However, many companies borrow because interest is an income tax deduction.
Debt-to-Equity Ratio
The debt-to-equity ratio measures the level of a company's indebtedness compared to equity capital. The higher the ratio, the greater the chance a company has in defaulting on its payments. Several missed payments may spell bankruptcy. In such a case, debt holders may receive pennies on the dollar upon liquidation of the company and shareholders most likely receive nothing for their shares. Financial analysts compare the debt-to-equity ratio of a company over time and against industry peers to determine whether the company has too much debt. For instance, a company with a debt-to-equity ratio of 21 percent compared to an industry average of 19 percent may not be cause for concern.
Debt
Given the additional burden on company management to make debt payments on time, it is a wonder why companies choose to use debt at all. One reason a company may choose to use debt, rather than issue additional equity is to prevent dilution of shareholder's equity. In such a case, the company must spread its profits over a larger shareholder base. A company usually prefers to borrow money than issue equity, particularly if it has projects with returns on investment greater than its weighted average cost of borrowing, which considers debt and equity financing. Companies may borrow in the form of corporate bonds, a commercial credit line, corporate loan or other forms of business credit.
Taxes
Many companies also borrow to take advantage of the tax code. The IRS allows companies to deduct interest payments against taxable income thereby reducing tax liability. When calculating a company's effective borrowing cost, analysts usually factor in the interest payment deductions. For instance, if the corporate borrowing rate is 7.5 percent and its corporate tax rate is 33 percent, its effective borrowing rate is 5.025 percent calculated by multiplying 7.5 percent by 1 minus the tax rate (7.5 percent x (1 - 33 percent)).
Insight
The debt-to-equity ratio is one of few financial ratios investors use to determine a company's solvency for making sound investment decisions. Tax benefits notwithstanding, a company increases its operational risk the greater the level of debt. In conjunction with the debt-to-equity ratio, investors also look at the company's operating profitability. This determines whether the company earns enough to cover its interest payments. Like the debt-to-equity ratio, compare operating profit over time and against a peer group. Steady and growing operating profit signifies that a company is in a good position to make loan payments.