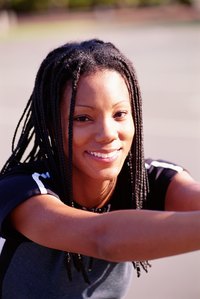 When African-American women want bone-straight hair on a daily basis, they often turn to relaxers. One problem with relaxers is that they are made with harsh chemicals, such as lye, which can wreak havoc on the hair and scalp.The standard relaxing schedule is to use one every six to eight weeks. Stretching a relaxer to every 10 to 12 weeks, however, can keep your hair in better condition. Try one of the best hairstyles for stretching relaxers to keep your hair looking stylish during that time.
Twists
Twists are an ideal hairstyle for natural and relaxed African-American hair. The low manipulation and protective nature of this style can be worn in different variations. The easiest way to create a twist is to separate the hair into sections and twist them together. Twist them as tight as possible so that they last all day (the twists will loosen during the day). Twist your hair when it's damp, and use gel or setting lotion to help the twists keep their shape.
Braid Outs
Braid outs work well while stretching relaxers with long hair. There are multiple variations of braid outs, from thick cornrow braids to thin, loose braids. It's crucial that the braids are tight enough to hold the shape well but not too tight that they pull at the hairline. Wear your hair in half up-dos while stretching your relaxer with a braid out.
Bantu Knots
Bantu knots are a versatile style for relaxed hair. To create the knots, just wind your hair into small knots all over the head. Put the hair in sections and wind the hair around itself. As long as you wind the sections tight enough, you should be able to secure them with just bobby pins. If you find that the knots do not hold well throughout the day, use elastic bands and bobby pins to hold them.
Bun
Stretch your relaxer by sweeping your hair up into a bun. This is one of the best hairstyles for stretching relaxers if you have long hair. Wearing it up in a bun keeps the hair from rubbing against the skin, which can lead to breakage for relaxed hair. Try a messy bun for a day-to-day style. Add a headband to dress it up. For a more formal style, sweep your hair into a sleek bun.