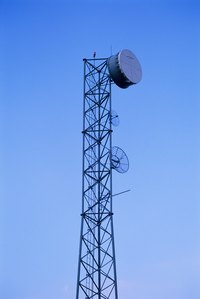 When radio tower equipment malfunctions, it is up to skilled repairers to climb the tower and correct the problem. Radio tower climbers are also responsible for installing both mobile and stationary transmitting, broadcasting and receiving equipment. Salaries for radio tower climbers ranges according to the worker's employer and the cost of living in his location.
Salaries
Salaries started at less than $25,430 in the 10th percentile for radio tower climbers as of May 2010, reports the Bureau of Labor Statistics. Climbers in the 25th percentile earned less than $30,360 a year, the median income was $39,740 and wages exceeded $52,350 in the 75th percentile. In the 90th percentile, salaries exceeded $63,140 a year, and the average salary was $42,090.
Industry
The two largest employers for radio tower climbers were wireless and wired telecommunications carriers as of 2010, with the former offering an average salary of $44,230 a year and the latter offering an average of $35,320. The BLS reports that radio tower climbers working in the industry of electronic and precision equipment repair and maintenance earned an average of $40,490 a year, while those working for electronics and appliance stores earned an average of $38,810. Local governments also employed radio tower climbers for the average salary of $53,790 annually.
Location
The highest concentration of jobs for radio tower climbers in the United States were found in Hawaii, which, according to the BLS, employed 0.23 climbers per every thousand jobs, for the salary average of $48,240 a year. Maryland was the top-paying state for these workers, with a salary average of $54,070 annually, followed by Colorado, with an average of $52,760, and New York, with an average of $48,550.
Outlook
According to the BLS, all radio and telecommunications equipment installers and repairers, including those specializing in radio towers, will see "little to no change" in job opportunities between 2008 and 2018. Some growth will occur due to advancements in technology and new offerings from companies, such as video-on-demand. On the other hand, potential growth is hampered because these new technologies are more efficient and require less maintenance.