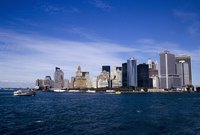 Though police officers of individual cities in New York can make arrests in their local jurisdictions, New York state troopers, also called state police, can enforce the law throughout the state. In regions without their own officials, troopers act as primary law enforcement. These troopers also earn their salaries by handling vehicle and traffic laws on state highways.
Requirements
Applicants to the position of New York state trooper must be at least 20 and under 30 when applying, and at least 21 during appointment. However, the maximum age limit is extended up to six years for active military personnel. They must be U.S. citizens, have a high school diploma and have no felony convictions. They must then pass a written exam, physical performance test, psychological evaluation, background investigation, polygraph test, medical exam and several drug screenings. Qualification processing typically takes an entire weekend about six months before training begins.
New York State Police Academy
When offered a position, recruits must then go through 26 weeks of training at the New York State Police Academy, where they live for the duration. As of April 2010, they receive their starting salary of $50,374 per year during training. A combination of classroom and practical exercises teaches recruits such skills as self-defense, working with fire arms, training on vehicle and traffic laws, accident investigation, criminal procedures and first aid. A 10-week field training program then follows, offering recruits first-hand experience as a police officer. Graduation from the academy grants the trooper annual wages of $66,905.
Promotions
New York state troopers receive regular salary increases so that after one year, their pay jumps to $71,261 annually, and after five years, it reaches $84,739. These amounts do not include hazardous duty compensation, longevity or expanded duty additions for serving in New York City or counties such as Nassau, Suffolk and Westchester. Several promotions are available. After four years of experience, or two years with an undergraduate degree, troopers can become investigators with the Bureau of Criminal Investigation and earn $94,355 annually. They also may compete for the supervisory rank of sergeant with a base salary of $99,849. After two years as sergeant, they may compete for the middle management rank of lieutenant, which earns $119,365 per year.
Benefits
As part of their compensation, troopers also get several benefits, such as from 120 to 224 hours of vacation, 24 to 40 personal leave hours and 104 hours of sick leave, depending on length of service. They also get 12 paid holidays; health, dental and vision insurance coverage; and a retirement pension. They receive all uniforms, with dry cleaning services, and equipment for free.