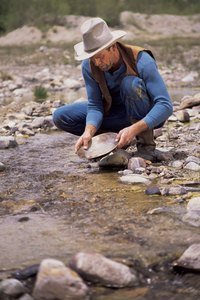 Only 39,900 Americans worked in metal mining in 2008, according to the U.S. Bureau of Labor Statistics. Gold mining attracts a small number of miners, but mineral mining also depends on a host of related mining workers, including scientists to locate the metal and professionals to operate the mining equipment. All have equal rights to the employment classification of "gold miner" since all professionals work in mineral extraction. The salaries for gold mining jobs vary with the professional job classification.
Construction Equipment Operators
Modern mining requires highly technical skills to locate gold. Early generations of miners found nuggets on the surface, called placer extraction, and miners also sifted rivers and streams for small gold grains using pans and sluices to separate the gold grains. More difficult mining extraction included digging for gold veins in rock formations and in isolated mineral deposits. Miners discover lode gold deposits using various forms of equipment and chemicals, including hydraulic hoses with pressurized water. Construction equipment operators working in gold mining operations made an average weekly pay between $1,017 and $1,195 or an annual yearly salary ranging between $48,696 and $58,190 in 2008, according to the bureau.
Mining and Geological Engineers
Mining engineers use tested engineering principles to assist in gold extraction. Modern gold mining incorporates digging for gold in areas around the world with well-known gold reserves, including North America, South America and South Africa, North America. Engineers determine the most cost-effective techniques to remove the gold. The bureau notes that gold mines typically require tunneling extending a mile under the land's surface. Engineers also assist in processing mineral ore to extract gold. The median annual salary of mining and geological engineers in 2009 was $79,440.
Geoscientists
Geoscientists specializing in gold mining conduct analysis and tests on soils with potential for gold extraction. The specialists study maps to determine the most likely area for gold deposits using mapping of primary hydrothermal veins, volcanic and alluvial activity to assess the percentage of success for finding gold. The median annual salaries for geoscientists in 2008, according to the bureau, totaled $79,160.
Miners
Although few in number compared with the group of workers employed as gold mining engineers and geoscientists, modern gold miners working as independent contractors use both traditional mining techniques, including panning and sluicing, combined with more modern processes developed in the 20th century, including cyanide leaching. Miners earn pay based on the amount of the gold discovered, typically on land leased from the state or the federal government. Lessees pay a royalty fee the land, reducing the profits from any extracted gold. Independent miners also must pay for all equipment and construction costs, without any guarantee of gold production.