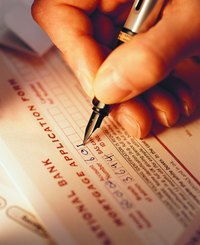 A deed of trust is a legal document used to create a mortgage lien favor of a mortgage lender. The deed of trust gives the mortgage lender security for the loan. When you obtain a refinance loan, your new refinance lender will pay off the old deed of trust and will replace it with an entirely new deed of trust.
New Loan
Refinancing means obtaining a new loan to pay off an existing loan. After closing on the refinance loan, your previous loan will no longer be in effect. You will make payments to a new lender, according to new repayment terms. You will no longer make payments under the old loan because the old loan will have been paid off.
Mortgage Lien
A critical component of a mortgage loan is a lien on the borrower's property in favor of the lender. Just as your current mortgage lender wanted a lien on your property, so too will your refinance lender want the same type of lien on your property. In many states, the deed of trust is the legal document that creates the mortgage lien. As long as the deed of trust remains attached and effective on the property, the lien remains enforceable by the mortgage lender.
Release
When a new lender provides a refinance loan, the new lender provides enough money to pay off your existing mortgage loan. When this happens, your existing lender must provide you with a release of deed of trust. The release document removes your current lender's lien from your property. This allows the new lender to step in and take the old lender's place with a new deed of trust on the property. The new refinance lender essentially steps into the place of the lender paid off during the refinance.
New Terms
Because the deed of trust on your refinance loan will be with a new lender, under a completely new loan, the deed of trust will almost certainly include terms that are different from the released deed of trust. The terms of the new deed of trust will be whatever you and the new refinance lender agree to. You can negotiate new terms with your new lender.