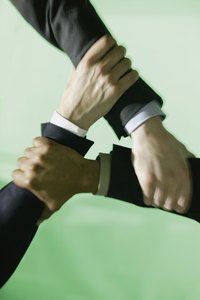 Partnerships and corporations are different types of business ownership structures. They are regulated by different tax laws and their investors take on different levels of risk. Because of the way they are structured, it is impossible to be a silent partner in a corporation, but being a shareholder in a corporation can provide similar advantages to silent partnerships.
Silent Partnership
A silent partner, also sometimes called a sleeping partner, is someone who puts up money for the enterprise, but does not want any role in day-to-day operations, and in some cases, wishes to remain anonymous. Other partners would provide additional capital, labor, skill or property necessary to get the business running, and each partner would expect a portion of the profits according to their business agreement. Each partner -- silent or not -- is also liable for losses. Silent partnerships are common in small businesses, start-ups or businesses like restaurants in which the creative force behind the enterprise might need a backer to get it off the ground.
Corporation
In a corporation, investors, or shareholders, contribute money, property or both for a portion of the corporation's stock. The management of the corporation is responsible for the day-to-day business and distributes profits to shareholders. Corporations can be privately held, which means their shares are not traded on the public market, but the management structure and tax obligations remain the same.
Similarities
Investors drawn to silent partnerships because they don't want to deal with the day-to-day commitments of running a business might find that becoming a shareholder in a corporation shares similar advantages. Like silent partners, shareholders generally stay out of the day-to-day operations of a corporation. Their role is typically limited to electing a board of directors, who in turn, appoint a Chief Executive Officer. The CEO must answer to the board of directors, but is responsible for hiring the management staff of the corporation. Shareholders who own preferred stock are even more removed from day-to-day operations. They have no voting role in the corporation, but are still paid dividends.
Risks
Silent partners generally take on more risk than shareholders because they are personally liable for the losses of the enterprise. That means creditors can go after their personal assets to settle a business debt, regardless of whether they are silent partners. Shareholders, on the other hand, are legally shielded from the company's debts or legal judgments against it, and will only see losses in the declining value of their stocks.