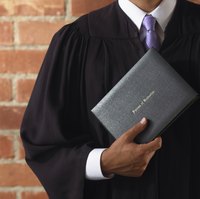 College graduation is a milestone in any person's life. It's a cause for celebration and for making memories. For men who are due to graduate, wearing the appropriate clothing is critical, especially since family members may have multiple cameras and trigger-happy fingers. Guys can keep a number of style tips in mind to make sure that they look the part.
Cap and Gown
The most important part of any graduate's attire is, of course, the signature cap and gown that represents the start of a new chapter in your life. Check with your college and program to make sure that you've got everything you need, as some colleges issue gowns that are unique. Certain higher-education programs may also call for differently styled gowns and caps, especially graduate or post-graduate programs. Your college administrators should be able to inform you as to what cap and gown you need, and where you can pick one up.
Traditional
College graduates also need to plan an outfit to wear underneath the loose-fitting gown. Conventional wisdom and countless college handbooks promote a classy but-not-overdressed approach. Men going for this look should dress as if they are going to a job interview. A nice button-up shirt and a non-distracting tie should do nicely, along with a pair of dress slacks, clean dress shoes and a suit coat if you don't mind the heat. Anything more formal, such as a tuxedo, is too much.
Non-Traditional
A graduate may choose to wear something a little more comfortable or styled to his personality. Graduates who choose to wear something like sweat pants, shorts, wacky ties or even t-shirts can usually get away with it, especially since little of your actual outfit is visible under the standard, flowing graduation gown. However, while this kind of a wardrobe choice might offer a little relief in a stuffy auditorium, it might not be appropriate for post-graduation brunch with grandma. Be sure to pack something nicer if the celebration will continue after you walk.
Accessories and Grooming
How to accessorize and groom yourself also depends on the type of attitude you want to take as a graduate. For many graduates, choosing a traditional and classy outfit warrants a cleaner, well-groomed look. Graduates should shave or trim any facial hair, should neatly comb and style the hair, and should consider tasteful cufflinks or a subtle piece of jewelry to round out the look. The graduate going for a non-traditional look has more grooming and jewelry options. A messy hairstyle or gaudy bracelet might look great on a musician graduating from an arts program. If you're going for the non-traditional approach, however, check with college administrators to make sure your look is still acceptable. And, regardless of style, any respectable graduate should make sure that both he and his clothes are sanitary and clean.