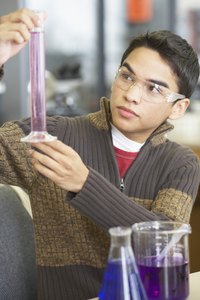 The study of applied chemistry can lead students into a wide variety of careers due to the fact that chemistry is an integral part of life and technology. Students will obtain knowledge not only of the elements of chemistry, but also how it works with other scientific fields. They will also learn about common practices for applying chemistry to multiple industries and areas of life. A closer look at jobs for those with an applied chemistry degree can help students make wiser career choices.
Chemical Engineering
Studying applied chemistry in college may help some students enter into a careers as chemical engineers. For example, students pursing the applied chemistry major at Xavier University in Ohio spend the second portion of their program working with the University of Cincinnati's College of Engineering. Once in the field, chemical engineers often implement or test chemical processes for use in products, energy, electronics and food. Chemical engineers also enjoy job possibilities across several industries such as healthcare, business and technology. They also benefit from competitive wages, averaging $94,590 a year, based on a 2010 report from the U.S. Bureau of Labor Statistics.
Medical Sciences
Applied chemistry is also highly valued in companies that specialize in the development and testing of medicines and pharmaceuticals. Chemical technicians and chemists work together in laboratory settings and conduct research, test the effects of chemical compositions on diseased organisms and develop theories and treatments. These types of jobs generally require master's or doctoral degrees, but chemical technicians average $44,200 a year, while the chemists that direct them made $73,240 a year on average in 2010.
Environmental Jobs
Some go on to use their knowledge of chemicals to help solve environmental problems. Environmental chemists test the effects that commonly found chemicals may have on the air, soil and water and may also recommend ways to reduce their negative impact. Some of this work is done in laboratories, while other jobs are focused in the field. The government employs environmental chemists more than any other firm, but private companies also hire them to in order to remain in compliance with environmental regulations. Environmental scientists reported an average of $67,810 a year in 2010.
Quality Control
One of the most essential tasks performed by those with knowledge of applied chemistry is quality control and assurance. Across multiple industries, chemical experts inspect, test and monitor automated and manual processes and final products the ensure that government and company standards are met. Some may also be in charge of developing and improving production processes and instructing factory and plant workers on safety and quality.