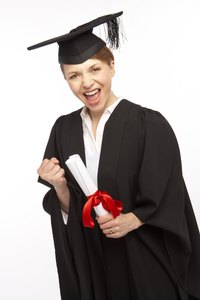 If the rising costs of tuition make college prohibitively expensive, student loans are available to help you pay tuition and earn your degree. Unlike grants and scholarships, you must repay student loans. One benefit federal student loans offer is a temporary grace status after graduation that gives you time to get your finances in order and begin repaying your education loan.
How It Works
The U.S. Department of Education understands that students need time to acclimate to a life after college and find a job that will allow them to begin repaying their student loans. According to the University of California in Los Angeles, the grace status for a federal Stafford loan is six months while the grace status for a federal Perkins loan is nine months.
Misconceptions
A federal student loan carries both a grace status and a grace period. After the loan's grace status expires, you have a grace period between the date your payment is due and the date your lender receives it. For example, if your loan is due on the first of the month and you have a 10-day grace period, you will not incur a late fee provided the lender receives your payment by the 11th of each month.
Time Frame
The grace status for your student loan begins on the date that you first drop below half-time enrollment – not necessarily on the day you graduate. Thus, if you take a semester off or lighten your course load, you may be inadvertently triggering your loan's grace status.
If you have a Perkins loan, you may qualify for another grace status after resuming your enrollment or deferring your loan payments. Once the grace status on a Stafford loan expires, however, you will not receive another.
Private Loans
If you received private student loans, your loan may or may not fall into grace status when you drop below half-time enrollment. CBS Moneywatch notes that private lenders have the right to set grace periods for repayment that differ from those the federal government offers. If you do not know the grace status of your private student loan, check the loan's original promissory note or contact the lender to ask.
Grace Status Alternatives
If you already used the grace status on your loan yet and you cannot afford to begin making payments on your loan after you graduate, you can apply for deferment or forbearance. During deferment, the government postpones payments on the loan's principle balance and pays the interest for you. You must meet certain qualifications, such as a documented financial hardship, to qualify for deferment. Forbearance is similar to deferment except interest continues to accrue until you resume payments on the loan balance.