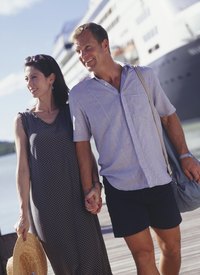 Jetting off for a vacation getaway should be fun, relaxing and recharging for your internal batteries. When you're heading to an upscale resort or cruise line, however, the dress code may have you stressed and stumped -- not what you were going for. "Black tie" is something you can understand, but if you're unclear what "resort casual" means, fear no more. You are guaranteed to have plenty of resort casual items already in your closet and you're one step ahead of the game by checking it out before you hit the ship.
No Short Shorts
The most important rule of resort casual for women is no short shorts unless you're pool-side. This may be rough for a woman who's used to spending the months of May through September in as little clothing as possible, but it's simply a way to up the style ante of the ship and keep things classy around the dock. If you're lounging by the pool, lunching at the lido deck (right next to the pool) or hitting the gym, short shorts are expected and totally fine. Once you're ready to check out the rest of your ocean paradise, however, plan on changing into something dressier.
No Swimsuits
It should go without saying that if you can't walk around in short shorts, then you can't walk around in your swimsuit, but some things bear repeating. The "no swimsuit" rule applies to men as well as women and is in effect anytime you are not in or around the pool. Heading to lunch at the lido deck? Pull on a cute cover-up or a T-shirt for men. Going somewhere further, such as one of the fancier on-board restaurants, the bar or a show? Get yourself dressed for real.
If you're walking straight from your room to the pool, a swimsuit is fine, but other than that, avoid this too-laid-back look.
What to Wear for Women
You know what to avoid, but what should you actually wear? For women, pretty sundresses should be your motus operandi for the duration of your resort vacation. Sundresses meet all the requirements of a perfect resort casual outfit: they are light, cool and breezy to keep you comfortable, dressy enough to fit in at all the restaurants and shows, easy to pull on over a swimsuit and casual enough for walking around when you dock at exotic locations. They can be worn equally to the beach and the casino and are easy to dress up or down, depending on what you're doing.
Not a sundress gal? Nice slacks and capris are fine, too, paired with a light cardigan or blouse.
What to Wear for Men
Leave the grunge behind and think country club when you're in a resort casual situation. If a country club brings to mind men in khaki pants, polo shirts and cardigans tied around their shoulders, then you're right on track. Khakis with a crisp collared shirt are the perfect outfit for a resort casual cruise or hotel. While flip-flops can be worn for a casual lunch in the dining room or walking around town when you dock, bring along a pair of loafers or docksiders for the evening time.
Button-down shirts are a suitable option, as well -- as long as it has a collar, you're good to go.