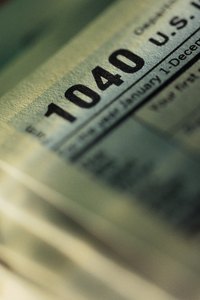 Not filing tax returns for years on end can become a stressful problem to fix. Once you send one in, it is probable the Internal Revenue Service as well as your state department of revenue will contact you asking about other missing returns. Completing all back returns allows a grand total debt to be determined, at which point you can pay or ask for a payment arrangement if you owe money.
If You Are Due Refunds
If you will be owed a refund for any return you have not yet filed, choose to send the one in that was due within the last three years. There is no late-filing penalty assessed when you are due a refund. In addition, the refund is still due to you if the tax year in question falls within the last three years. Once three years have passed, the IRS still won't charge a penalty for late filing but also will not give you the refund or apply it toward your total tax debt. Be sure to file the state return at the same time you file the federal return to take care of them both at once. If you will owe money, for any return you file, file the return for which you have the most information available for filing.
Anticipate Penalties
When your return is received, you will be assessed a failure to file penalty. If you owe money for that tax year, you will also be assessed a failure to pay fine. This penalty is a given, due to the fact that you filed a year that was due at a previous point in history. Interest accrues continuously from the time you should have filed and paid until you do pay; therefore, anticipate interest due. The more years the return went un-filed, the larger the interest payment will be that is due.
Collection
If you cannot send in the entire amount due, the IRS/state department of revenue will begin collection efforts. Initially, there will be letters of demand for payment, then notice of intent to levy and finally, if those are ignored, an order for levy. You can apply for a payment arrangement, but if you owe additional returns and money for past years, you will need to get those returns filed and a total amount due established to work with the IRS/state department of revenue on a solution. For the years you do not owe any money, none of these things apply.
What It May Trigger
Sending in a return after years of not filing, may trigger all the other non-filed years to be requested. At some point ,that would probably have happened even had you not filed this one return. The IRS deals with each year as a separate debt until all returns are filed; therefore, you could have several letters arrive from the IRS/department of revenue demanding payment, returns filed and additional information. As you file each missing year, you will come closer to an accurate grand total and can begin working out a payment plan or a lump sum payment.