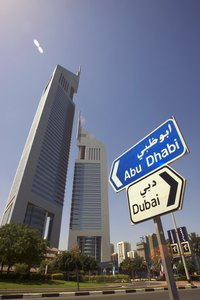 Translators are paid for their ability to translate one language into another, whether it be in written or oral form. According to the Bureau of Labor Statistics, there were 44,200 translators employed throughout the United States in 2010, working in various venues like schools, hospitals and government. Salaries for translators can vary by employer and location, but also by the language the translator interprets. Those with a background in Arabic can make substantially more than the average translator due to high demands for those with this language expertise.
Pay Scale
Arabic translators and other translators generally make salaries ranging from $22,950 to $86,410 per year, as of May 2010, according to the Bureau of Labor Statistics. The bureau reports that translators made a median salary $43,300 in 2010 and an average salary of $49,790 per year. Those composing the middle 50 percent of the pay scale made salaries that ranged from $31,610 to $61,130 on an annual basis.
Employers
Translators can work in a variety of settings and this affects the pay they earn. According to the BLS, translators working for local government agencies made an average salary of $45,540 per year in 2010. Those employed by elementary and secondary schools earned an average of $39,710, while junior college translators made $47,710. Those working in the broad field of scientific and technical services made an average salary of $57,340 per year. The highest-paid translators worked in the consulting field, making an average salary of $99,650 per year. Those who worked for the federal government averaged $74,780. In fact, the Central Intelligence Agency reports a salary range of $51,630 to $94,837 per year for those working in the field of Arabic translation.
Location
Location can also have an influence on salaries earned by Arabic translators and others working in this field. According to the BLS, the highest-paid translators worked in Virginia, New Jersey, Colorado, Maine and Oregon, earning average salaries in excess of $53,000 per year. Those working in California brought home an average of $43,800, while those in New York managed to make $53,620, on average.
Job Outlook
The job forecast for those working as translators of Arabic or other languages appears to be positive, based on projections made by the Bureau of Labor Statistics for the period from 2008 to 2018. The bureau indicates that the number of jobs in this field will grow by about 22 percent during this time frame, an above-average rate of growth. The bureau indicates high demand for Arabic and other similar Middle Eastern languages.