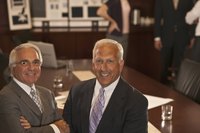 To perform a rollover of your 401(k) into a Roth IRA, simply contact your plan administrator to initiate the process. You must pay income taxes from your rollover if your employer allowed you to fund your 401K account on a pretax basis.
Rollover Rules
Pay attention to rollover rules for converting your 401(k) into a Roth IRA. You can no longer be working for the employer in order to roll your 401(k) into a Roth IRA. You need to have an established Roth IRA account before initiating the rollover. Your adjusted gross income must fall within IRS limits. In 2011, AGI limit for a single taxpayer, head of household or married filing separately younger than 50 is at least $107,000 but no higher than $122,000. The AGI limit for married couples filing jointly is at least $169,000 but no more than $179,000. You must move your 401(k) funds into a Roth IRA account within 60 days of receiving a check from your 401(k).
Taxes
If you have a traditional 401(k), the tax rate from the rollover is the same as the ordinary income tax rate. You must pay taxes because most employers allow their employees to fund their 401(k) before taking out income taxes. Therefore, you have to pay taxes on the rollover. For tax purposes, add the amount of the rollover to your AGI. Even if the addition pushes you into another tax bracket, the IRS uses your ordinary income tax rate. If you receive a cash distribution from your 401(k) in the form of a check, the plan administrator will likely hold 20 percent of it for taxes. A distribution may be in the form of a loan from your 401(k), hardship distribution or distribution upon termination of employment or disability.
Exception
You can avoid paying 20 percent tax on a distribution check from your 401(k) if you have the funds moved directly into your Roth IRA account. Inform the plan administrator that you want to put the funds into your Roth IRA account. The key is to have the plan administrator write a check payable to the investment company you choose to handle your Roth IRA account. This is a trustee-to-trustee transfer. You have 60 days to make the transfer.
Insight
Converting a 401(k) into a Roth IRA lowers your investment fees and allows you greater flexibility in your investment choices. A 401(k) plan limits you to the available mutual funds offered by the plan administrator. In contrast, a Roth IRA allows you to invest in various investment funds including individual stocks, bonds and other financial instruments. Converting to a Roth IRA allows your retirement savings to grow tax free.