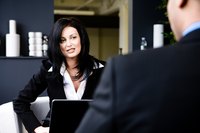 Before advertising or posting a position opening, employers analyze job tasks and establish minimum criteria to select viable candidates. Using a formal job analysis process ensures that employment decisions focus on job requirements and not on individual attributes, such as sex, race or age. The results of job analysis specify required knowledge, skills and abilities for the job, as well as driving organizational decisions on compensation, performance evaluation and internal promotions.
Value to Employers
Job analysis helps employers select candidates for a position who are likely to succeed in meeting major job requirements. Most of the decision points resulting from job analysis provide measurable criteria to differentiate among candidates. In addition to its central role in hiring decisions, job analysis provides valuable information to help identify employer-based training needs and evaluate employee performance. Using a formal job analysis as the basis for employee selection and promotion may protect employers from charges of discrimination.
Job Analysis Procedures
Job analysis begins with a position description that lists the most important tasks associated with the position. Interviews with individuals currently employed in similar jobs and criteria from management and subject matter experts help refine the job description and provide details on required knowledge, skills and abilities. The first decision point in job analysis requires subject matter experts to rank each job task in terms of importance and frequency. The second major decision point establishes required job competencies.
Applicant Decision Points
Three major decision points, based on job analysis, specify minimum and quality factors used in employment consideration. These decision points include required level of educational achievement, years of related experience and physical abilities needed. For example, a position may require completion of an advanced degree in an appropriate field or physical abilities to lift 40 pounds. The job analysis ensures that the education, experience and physical requirements tie directly to job tasks.
Employer Factors
Employers make two other major decisions about positions based job analysis. The employer decides the appropriate level or range of compensation for the position and the placement of the position within the organization's structure. Using the job analysis, compensation for jobs with similar entry requirements and responsibilities but in different organizational departments can be compared for parity. Placing a position at the right level within an organization supports career planning, by making advancement criteria transparent. For example, an organization will have different experience requirements for the position of entry-level accountant, general accountant and senior accountant.