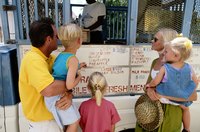 Different categories of grants for various aspects of a concession business are available through private and public funding. From small expenses at start-ups to upgrades at existing businesses, grants make a difference. Small Town grants cover concession stand construction. Assessment and planning grants help to guide concession businesses in selling healthy products, and concession trailers selling healthy products are also eligible for grants. In some cases, grants are designed to give the edge to healthy food choices at concession stands.
The Amber Foundation Grants
The Amber Foundation Grant honors a young woman who died at age 19 before she could fulfill her dreams. The purpose of the grant is to give other women the opportunity to fulfill their entrepreneurial aspirations, particularly in regard to starting a small business, whether home-based or online. The amount of the grant is to help to cover small expenses associated with starting a business, such as paying for a website or upgrading equipment. As of 2011, the value of the grant was $500, privately-funded.
Small Town Economic Assistance Program Grants
In Windsor Locks, Connecticut, a Small Town Economic Assistance Program Grant paid for the construction of a concession stand in Veterans Memorial Park in 2011. Administered by the Office of Policy and Management, the STEAP Grant provides funding for economic development, community conservation and quality-of-life projects. The concession stand is a two-tier structure, fitted with an elevator to comply with the Americans with Disabilities Act. Funds for STEAP Grants come from the State Bond Commission and are strictly for capital projects. According to a contractor's estimate, the cost of building the concession stand was $260,713. As of 2011, STEAP grants up to a maximum of $500,000 annually were available to municipalities.
Community Assessment Grants
In South Dakota, community assessment grants are available to cities, towns and communities through the South Dakota Department of Health, Office of Health Promotion, Healthy South Dakota and Healthy Communities Programs. The grants are specifically for community assessment and planning aimed at promoting better health. Any balance of funds goes toward implementation. As of 2011, the maximum amount of the grant was $15,000.
A specially-created website, Healthysd.gov also provides information about healthier options for concessions at sporting events. The Healthy SD Concessions Model Policy details foods and beverages that are "green-light good" as well as listing those that are "red-light items" to avoid. Free marketing materials are available to assist in drawing the attention of customers to healthier selections at the concession.
St. Lawrence County Health Initiative
In Potsdam, New York, in 2011, the nonprofit St. Lawrence County Health Initiative funded and operated a "Good to Go" trailer offering nutritious choices as an alternative to the usual concession food fare at public events. Established in 1999, the purpose of the Initiative is to offer health-related information, as well as grants and other resources, to benefit the residents and agencies of St. Lawrence County. Patrons at the Potsdam Summer Festival and the Tour de Potsdam Wellness Walk/Run had opportunities to try the healthy takeaway goodies on offer from the trailer. They did not include cotton candy, even though the trailer was formerly a cotton candy trailer. A sidebar to this effort was the hope to educate the public about healthy food choices and suitable serving portions.
Farmland Preservation Legislation Grants
In 2011, the state of New Jersey adopted legislation whereby more than $90 million in grants went to counties, towns and nonprofit organizations to preserve farmland and to ensure greater visibility of "Jersey Fresh" and "Made with Jersey Fresh" food products at concession stands in state government facilities. Processed food items are included under this legislation. Food processors who use the Made with Jersey Fresh logo must ensure that the products they use pass inspection through the Jersey Fresh Quality Grading Program and strict grading and quality criteria.