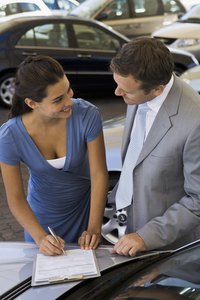 The often maligned and rarely loved car salesman made an average salary of $42,430, as of May 2010, according to the U.S. Bureau of Labor Statistics. People sometimes assume that the car salesman makes a fortune off of selling them a car, but this figure clearly shows otherwise. Part of this misconception is because many people simply don't understand how the car salesman is paid. The question of whether or not an automotive salesman receives a base salary can be answered in two word: "it depends."
Pay Plans
To answer the question of whether or not the automotive salesman receives a base salary, it is first necessary to recognize that each car dealer has his own pay plan for his sales staff. No industry standards exist that says that a dealer must pay the salesman a base salary or even commissions. Some dealers will pay a nominal base commission so that the salesman can survive during difficult months, but most pay their salespeople on a commission-only basis. In some cases, car dealers will offer a "draw" against the following month's commissions if the salesman has a down month. This will then be subtracted from the commissions earned in the next month if they reach a certain point. A draw can either be a set amount or an hourly wage, such as minimum wage.
Commission Structures
Whether the car salesman makes straight commission or a base salary plus commission, the potential for extraordinarily high income does exist. Dealers typically pay the salesman a percentage of the gross profit earned on the sale of each vehicle. Michael Royce of AOL Autos indicated that the typical commission range is about 20 to 25 percent. This means that if the salesman sells you the car and you pay $2,000 over the dealer cost, the salesman will make $400 to $500 as a commission. Royce indicates that the national average commission per car deal is $250. A car salesman must sell about 20 cars per month, or nearly one for each working day of the month to make $5,000 at that rate. Dealers that offer a base commission may offer a lower percentage on each vehicle, since they already have to pay the salesman, regardless of the results.
Bonus Commissions
Car salesmen who make high salaries tend to do so because they are able to meet a dealer's bonus requirements for each selling month. As an incentive, a dealer will usually increase the commission received on a vehicle once the salesman reaches a certain volume of sales. For instance, a dealer paying 25 percent may do so for the first 10 cars sold in a month and then increase the percentage to 30 percent for cars 11 through 15. At the 16th car, he may increase it again to 35 percent. Some will even offer a retroactive commission that allows the salesman to make higher percentages on earlier sales in the month if they reach a high volume level, which can be anywhere from 25 to 30 cars in a month.
Incentives
To increase the likelihood that the salesman will put all of his effort into selling each care he has an opportunity to show, dealers will also offer additional bonuses and "spiffs" from time to time. Bonuses can be anything of value that the dealer decides will motivate the salesman to work harder. For instance, a $500 volume bonus on the 15th car sold in a month is one type of incentive. Providing a demo allowance, or a monthly bonus that will allow the salesman to drive a new car for the month if he consistently performs well, is yet another. Spiffs are mini bonuses also designed to motivate. An example of a spiff is a gas grill given to the car salesman who sells three cars in one day or $50 cash to the first salesman to close a car deal each day.