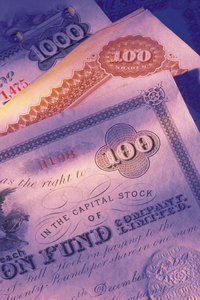 The shareholder's equity section of the balance sheet receives quite a bit of scrutiny from investors. It provides information on a lot of things, including the competitive strength of a company. There are two primary ways that companies can raise the common equity account on the balance sheet. The first is through the sale of shares to shareholders while the second is through generating a positive net income over a certain time period.
Common Equity
Common equity is found on the balance sheet in the shareholder's equity section. It represents the capital contributed to the company by the general shareholders and does not represent any capital contributed through the purchase of preferred shares. Common equity includes the sum of two accounts: retained earnings and paid-in capital. Note, common equity can rise or decrease depending on dividends and earnings of the company. Dividends and net losses decrease retained earnings while net gains increase retained earnings.
Share Sale
There are two primary ways companies raise common equity. The first is a simple share offering. Companies sell shares often and they do this to raise capital. It can be done through an initial public offering (IPO) or through secondary offerings where the size of the offering is much smaller than an IPO. The journal entry for the share sale is an increase to cash for the amount raised and an increase to paid-in capital for the same amount. The higher the price a company receives per share, the more capital it receives. Share sales are not looked favorably upon by shareholders because it dilutes their ownership stakes.
Retained Earnings
Retained earnings are earnings that the company has plowed back into the company and not disbursed as dividends. Retained earnings has the ability to rise or fall. Retained earnings are a company's cumulative earnings minus all dividends since it began operations. A company can raise retained earnings and therefore common equity by generating net income. A negative retained earnings account is possible, and although it does not mean that the company is in bad shape, it generally is.
Use
Both paid-in capital and retained earnings are closely looked at by investors. Trends in paid-in capital provide information on the probability that a company is going to dilute its shareholders' holdings. The retained earnings figure provides information about how proficient a company has been at generating earnings throughout its operating history. Retained earnings also provides information about the availability of dividends, as dividends are paid out of retained earnings.